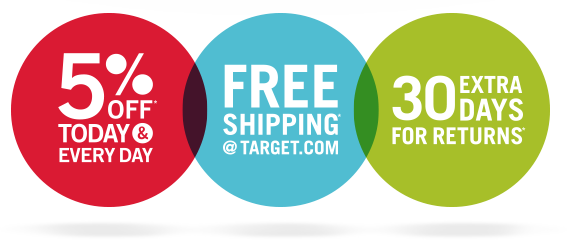 Do you love shopping at Target? Do you have a Target REDcard credit or debit card? If not, it's kind of like you're leaving free money on the table.  If you choose a Target Debit Card, it works just like a check by drawing from your existing checking account.  It has no annual fee and a secured PIN access.  You can even use it as a debit card for a cash withdrawal up to $40 at checkout in store.  This is a great option for those who don't like or don't want another credit card.  Of course, if you do want a credit card, there is also the Target Credit Card.  It also has no annual fee and you can manage your account right online.
With either card you get some awesome bonuses.  The BIG one, in my opinion, is that you get 5% off every single day, whether you shop in Target store or shop online.  If you do shop online, you also get FREE shipping.  And to to;p it off, you also get 30 extra days for returns.  Another fabulous features is that you can choose a school, whether it be your kids' elementary school, the neighborhood middle school or any other eligible K–12 school, and they will donate up to 1% of your REDcard purchases at Target stores in the U.S. and at Target.com.
Again it's free to sign up, there is no annual fee, and all of the bonuses above are included.  Get your Target REDcard HERE.