Packing your own lunches for school and the office can save a LOT of money.  But did you realize that you can save much more by using reusable packaging rather than your usual baggies and by portioning out larger packages rather  than buying single serve juices, pudding, etc?  In fact, if you switched away from using disposable lunchware such as plastic baggies and paper napkins, you could save about $435 a year! Yep, the folks at ECOlunchbox did a study in 2009, that calculated the savings for a family that had two kids and one adult packing lunch five times a week.
How to Save Up to $435 Per Year Using Reusable Lunchware
If you're looking for some suggestions, here's a top five list of eco-friendly school supplies that make it easy to go green this Back-to-School season! Click here to see the whole line of super-durable, easy to clean, plastic-free lunchware.
5. Eco Chic Furoshiki Bento Box Kit 
The original eco lunchbag from Japan sewn from colorful fair trade textiles hand-printed by artisans using wooden blocks and wax batik techniques. 
4. Oval + Cup
This super-classy 2-piece lunch set includes a large oval container plus a smaller cup that's ideal for sauces, dips or other wet foods.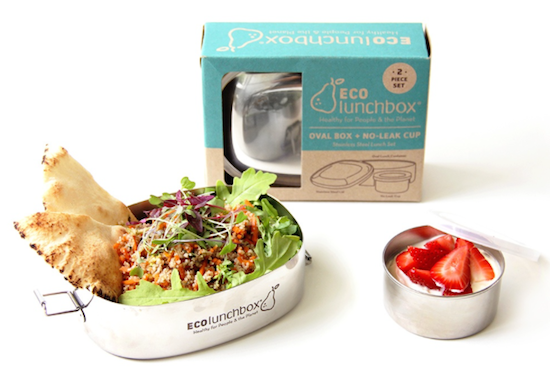 3. Three-In-One
With three nesting containers, this lunchbox is ideal for school lunches. Most kids pack a sandwich and two side dishes, this ensures their food won't get mixed up! 
2. Solo Cube
This is a classic reusable sandwich box, durable and light-weight, but without the plastic! 
1. Blue Water Bento Lunch Kit
This is a fantastic leak-proof lunchbox without plastic! The silicone lid and the quirky screen-printed lunch bag are a crowd favorite.