When you head to the theater on Thanksgiving weekend to see The Good Dinosaur, get ready for a treat before it begins. It's an all-new Disney•Pixar short film "Sanjay's Super Team"! 
This moving short film is based on the experience of Director Sanjay Patel as a young boy. While I was at Pixar Animation Studios last month, I had a chance to see Sanjay's Super Team and hear from Sanjay Patel himself. The short film tells the story of a first-generation Indian-American little boy who loves western pop culture, but finds it conflicts with his father's traditions.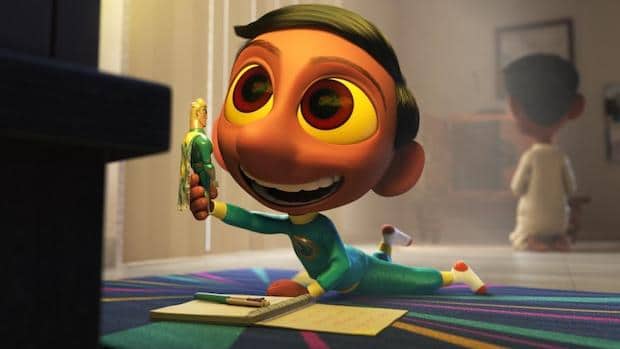 We see from the start of the film that Sanjay is totally absorbed in his own little world of action cartoons and and resists his father's attempts to draw him into his Hindu traditions. We go with little Sanjay into an amazing adventure that gives him a whole new outlook a new insight into how he and his father can find common ground.

I loved this short film and found it to be very moving. I found some personal connection with the Indian theme as my nephew's father is from India, but I also thought it was applicable to anyone who finds their experience vastly different from that of their parents. While differences are especially pronounced when a child is growing up in a totally different country than their parents did, we all have generational differences that affect our family relationships and all need to find common ground where we can connect.
Sanjay Patel is an accomplished artist who joined Pixar Animation Studios in 1996 an animator on "A Bug's Life" and has worked on many other Pixar classics. Sanjay's Super Team is inspired by his life growing up in San Bernardino, California, in a Gujarati family. At that early age he was influenced by two very different worlds: comic books and Saturday morning cartoons, and the Hindu gods and spiritual culture of his parents. He later learned to embrace both sides of his world and went on to seriously study Indian art and culture. He created art, graphic novels and picture books that re-envisioned Hindu mythology in a modern, pop-culture way.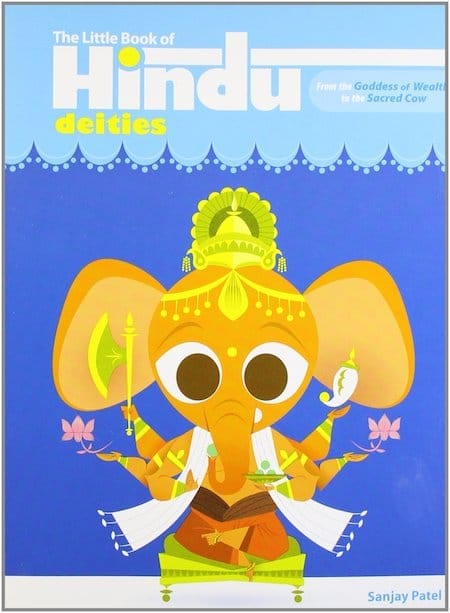 Sanjay created a very popular book, The Little Book of Hindu Deities, that illustrates and explains the most important Hindu gods and goddesses and bring life and understanding to the classic stories he wasn't so interested in as a kid. The book looks adorable and it would definitely encourage ME to learn more.
Now Sanjay has come full circle in creating Sanjay's Super Team, which is his personal story and a "mostly true" depiction of his journey to understand the Hindu world so important to his parents.

"Sanjay's Super Team" opens in theaters everywhere on November 25th,
in front of Disney•Pixar's THE GOOD DINOSAUR!
Like THE GOOD DINOSAUR on Facebook: https://www.facebook.com/PixarTheGoodDinosaur 
Follow THE GOOD DINOSAUR on Twitter: https://twitter.com/DisneyPixar
Follow THE GOOD DINOSAUR on Instagram: https://instagram.com/disneypixar/
Follow THE GOOD DINOSAUR on Pinterest: https://www.pinterest.com/disneystudios/
Visit THE GOOD DINOSAUR on Tumblr: https://disneypixar.tumblr.com
Follow Disney/Pixar on YouTube: https://www.youtube.com/user/DisneyPixar