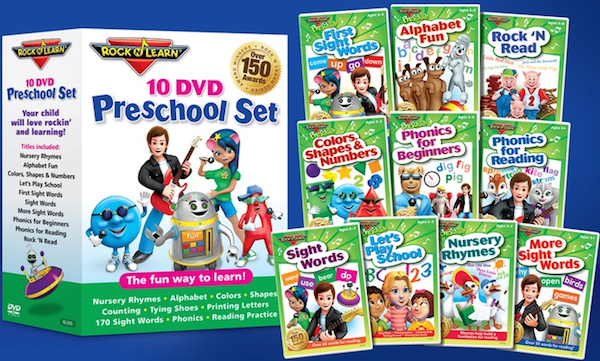 Rock 'N Learn just debuted their new 10-DVD Preschool Pack on Groupon. The retail value for this set is $129.95 and the sale price is only $39.99 with FREE shipping! This offer is only for a limited time, so you'll want to grab it while you still have the chance.
Rock 'N Learn offers educational programming in this 10 DVD set that pairs basic reading and phonics lessons with the kind of toe-tapping tuneage that appeals to kids aged 2 and up. Your little ones interact with the music, as well as the whimsical onscreen characters, during lessons that span from everything from rhymes and sight words to phonics. Rock 'N Learn's multisensory model is a fun, riotous method of learning that has earned more than 100 national awards in the last 25 years.
The Rock 'N Learn 10-DVD Preschool Pack contains 10 discs running 30 to 45 minutes each:
Nursery Rhymes
Let's Play School
Colors, Shapes & Numbers
Alphabet Fun
First Sight Words
Sight Words
More Sight Words
Phonics for Beginners
Phonics for Reading
Rock 'N Read
The DVDs help teach preschool lessons with animated characters and catchy music with lessons on letters, colors, shapes, counting, shoe-tying, and more. The sight words DVDs cover over 170 words.
Head on over and grab the Rock 'N Learn 10-DVD Preschool Pack for only $39.99 HERE.
Reader Giveaway: One lucky Thrifty Jinxy reader will win the Rock 'N Learn 10-DVD Preschool Pack. To enter, just complete the entry form below by 11:59pm ET on 11/28/14. Good luck!