Check out our Raisels review to see what we think of this 100% real fruit snack that tastes like candy!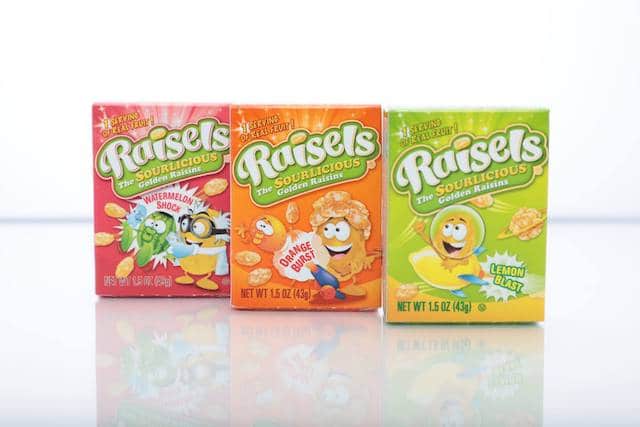 What Are Raisels?
Raisels are a new, fun and healthy snack from The National Raisin Company. Although they taste like candy, Raisels are a 100% real fruit snack! They contain 100% of your daily Vitamin C requirement, real dried fruit golden raisins, and less added sugar than sweetened dried cranberries.
To make them taste like candy, the raisins are given a sour burst in one of four flavors: Sour Lemon Blast, Orange Blast, Sour Peach Pucker or Sour Apple TKO and then dusted with sugar.
Sure, it's better to eat straight raisins, but if you can get your kids to eat Raisels instead of candy (that is basically ALL processed sugar), cookies, or other sweet snacks….you'll be ahead of the game.
Raisels Facts:
Here are a few facts about Raisels (also known as Amazin' Raisin) at a glance:
100% US RDA for Vitamin C
Rich in Antioxidants
Fat Free
Cholesterol Free
No High Fructose Corn Syrup or Artificial Sweeteners
No Sodium
Kosher Certified by the Orthodox Union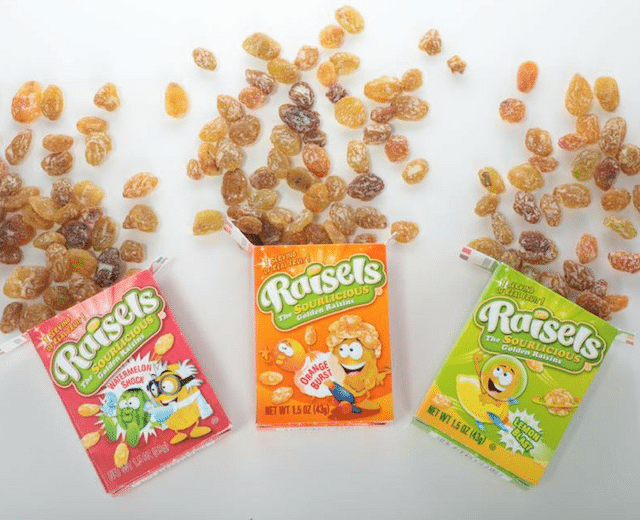 If your kids (or you) like sour candies like sour worms or Sour Patch kids, then Raisels will be a hit. They really do make you pucker!
Check out Raisels.com for more information and for fun games and activities.
Raisels Giveaway:
** Congratulations to our winner – Meredith M! **
One lucky Thrifty Jinxy reader will win a big box of Raisels featuring a variety of flavors. To enter, first visit Raisels.comand then come back and fill out the form below letting us know which flavor sounds best to you.
To tweet about the giveaway, you can use: Enter the @ThriftyJinxy #Giveaway to win a big box of @Raisels featuring a variety of flavors! https://bit.ly/hLJDEF Please RT!