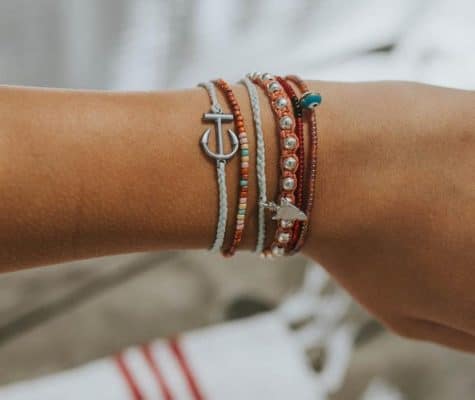 Have you heard of Pura Vida bracelets? These are artisan-made bracelets that come in a variety of styles, patterns, and colors to jazz up your bracelet collection. You can wear them alone or combine them with other bracelets for a funky layered look. There are what appears to be ENDLESS color combinations and innovative styles that you can mix, match, combine and layer to make a style that is completely and utterly your own. Plus you don't have to spend a fortune! Pura Vida bracelets start as low as only $5 each and shipping is free on all orders!
They have a wide range of color pallets, so you can put together an amazing collection for any season. I especially love the browns and earth tones for the perfect autumn look. The look above includes the black braided, gold spider black and seed bead popsicle. By adding that gold spider into the mix, I think it also makes the look perfect for Halloween. It adds that seasonal flair without being too "spooky"!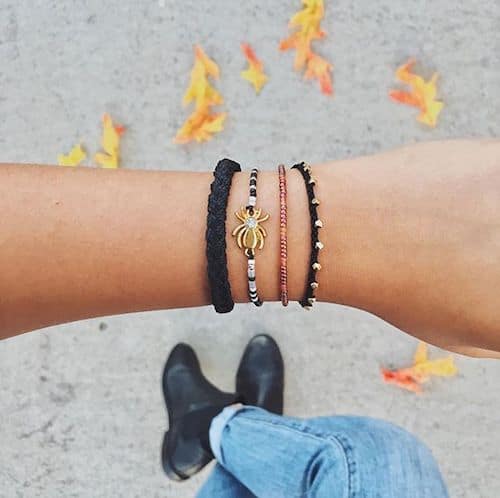 Plus, for a limited time you can use the coupon code PURAVIDA10 to save 10% off your entire order when you purchase $30 or more. These bracelets already start at just $5 and shipping is free on orders of $25 or more, so the extra 10% off just makes it that much better!
If you just can't get enough of Pura Vida bracelets, they also have the Pura Vida Monthly Club. With the club, each month you get 3 exclusive bracelets (up to $50 value) that are available ONLY to Pura Vida Club members and selected by Pura Vida's team of Instagram influencers and fashion stylists. The Pura Vida Monthly Clu costs only $14.95 per month and the shipping is totally free! With new bracelets every month, you'll always stay ahead of the trends and keep your collection of Pura Vida bracelets fresh and updated. The extra awesome thing about this club is that there is no contract and you can cancel at any time – no questions asked.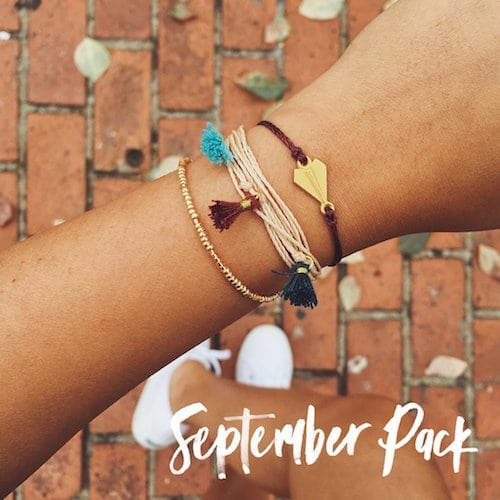 Not only are these bracelets fun and affordable, but they also help support 150+ artisans worldwide with full-time jobs. Every Pura Vida bracelet is carefully handcrafted by artisans throughout the world. They have an amazing commitment to their craft, which is seen in the quality of the bracelets themselves. Head to Pura Vida to check out the wide selection!
Pura Vida also offers a big selection of Charity Bracelets. With these collections, a portion of the profits of every bracelet purchased is donated to its associated charity. Some of the charities involved include Boarding for Breast Cancer (B4BC), Oceanic Preservation Society (OPS), Joyful Heart Foundation, Beach Environmental Awareness Campaign Hawai`i (B.E.A.C.H.) and others.  The bracelets offer double impact because not only does the donation go to the charity, but when you're wearing the bracelet and someone compliments you on it, it's a perfect time to mention what charity it represents, the good work they do, and hopefully create another supporter!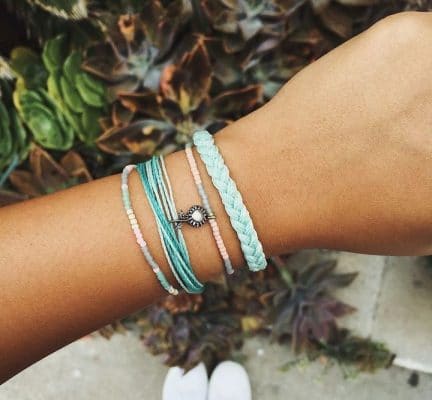 Shop Pura Vida now and don't forget you can use the coupon code PURAVIDA10 to save 10% off your entire order when you purchase $30 or more.