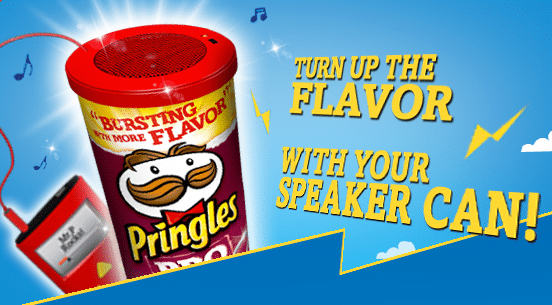 During summer its always nice to have music handy, but if it's just on your iPod, iPhone or MP3 player it's not easy to share it with others.  You can change this with the unique, battery-operated portable Pringles Speaker, designed to fit onto the top of any Pringles can.  It uses the empty can to intensify sound when attached to your music device – creating the "Pringles Speaker Can."
Now through Oct. 31, just send in proof of purchase of any four Pringles cans along with the printable redemption form to receive a FREE Pringles Speaker.
Pringles was nice enough to send me a speaker to try out and here is a little Pringles Speaker Can video I made to show you how it works.  Please forgive the bad video quality, I'm by myself today and had to prop up my little handheld recorder on the side of the deck to record!  I have heard that the speaker sounds even better if you cut a small hole in the can (gives it more bass), but I have yet to try that.