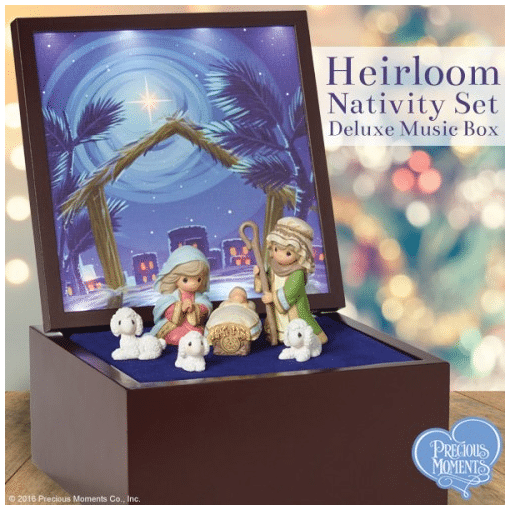 Do you have friends or family members who are collectors? My mom collects bells. My Grandma Grandma collected thimbles. My aunt – music boxes. I like to collect nativity scenes and snow globes. As a perfect combination of music boxes and nativity scenes, I was excited to see the Precious Moments Heirloom Nativity Set Deluxe Music Box!
I love to add to my nativity collection every year and I sure wouldn't mind if someone decided to wrap up this music box for me under the tree. It's unique in that it's not only a nativity set, but ALSO a music box. And it features those adorable Precious Moments characters. What's not to love?
The music box is a touching portrayal of that most holy night with a backdrop that lights up with LED bulbs. The music box plays "Silent Night". The nativity figures are displayed and stored in a beautiful wooden box.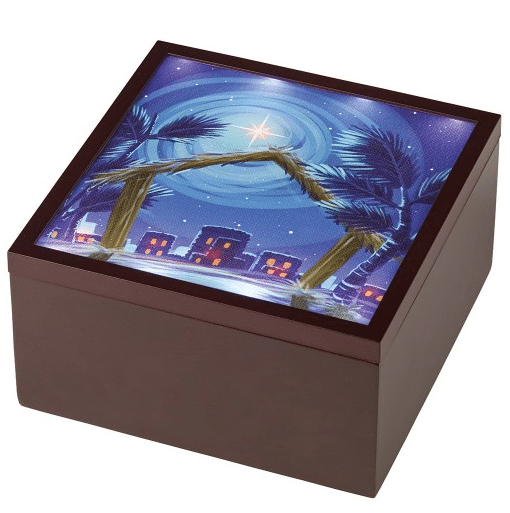 You'll be filled with the wonder of the Nativity story, remembering the reason we celebrate each December. The Precious Moments Heirloom Nativity Set Deluxe Music Box is an uplifting gift of faith and makes a touching Christmas gift for family members and friends. The pieces are skillfully hand painted cold-cast resin.
Who do you know that will love this music box?