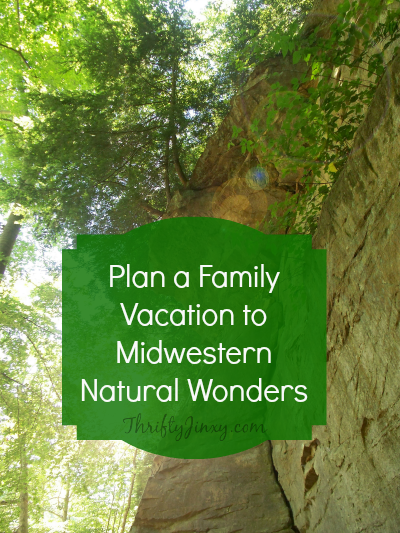 Everyone thinks that you have to travel far and wide to see something incredible, but there are natural wonders worth marveling over right in midwestern United States. A family vacation to some of the beautiful, natural landforms that can be found in the many states across central US can be some of the best trips of a lifetime. If amazing waterfalls in spring and winter are what you want to see, there are several. Canyons, private islands and pristinely preserved forest all make the list.
Plan a family vacation to these Midwestern natural wonders, where the entire family will be able to see beauty at its best.

Plan a Family Vacation to Midwestern Natural Wonders

Sculpted Rocks and Cliffs of Kansas
Most people think that you need to travel all the way to Utah to see incredible sculpted rock formations, but there are actually quite a few right in the Midwest. Kansas is home to several impressive sculpted rocks and cliffs, including Monument Rocks, Castle Rock and Arikaree Breaks. Road trip through the northwestern corner of Kansas to see what time and erosion has done to thousands of layers of soft sedimentary rock. Turrets, arches and sand castle formations create an interesting landscape that few ever get the chance to see.
Illinois Starved Rock State Park
Waterfalls fill the canyons and gullies that make up Starved Rock State Park every spring, and even the winter creates its own beauty with frozen waterfall formations that are awes inspiring. The sandstone tables that form the incredible falls have been flattened and shaped by the spring water that rushes over them year after year. Eighteen canyons are found within the park and each one is worth the hike to get to. In between the incredible waterfalls are other great views and history.
Boundary Waters, Superior National Forest, Minnesota
The Boundary Waters of Minnesota might just be some of the most pristine, beautiful waters in the whole of the United States. Accessible only by water, the National Forest is protected and very remote, but it is well worth the effort to see. Canoe and camp your way through any number of waterways and islands that were left behind by glaciers thousands of years ago. Reacquaint yourself with the night sky when the absence of light pollution opens up a view that most have never seen in their entire lives.
Sleeping Bear Dunes National Park
The extremely high sand dunes that make up Sleeping Bear Dunes National Park and hug the coast of Lake Michigan are unique and the perfect family vacation destination. Everyone can appreciate a beach getaway, and this natural wonder has it all. It takes a little bit of endurance and determination to climb the dunes, but the view from the top is worth the effort. Of course, enjoying the dunes from the beach is always an option. Bring the family out to see the dunes and then enjoy the beach and lake for the day. Biking, camping or heading to town can help you put together an incredible, fun filled vacation at this Midwestern destination.
Where are you going to travel first?