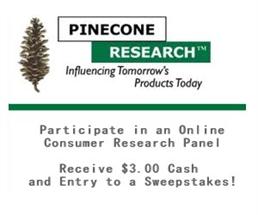 PineCone Research is a great survey company and they are now taking new applicants! If you've been looking for ways to earn a little cash from home, surveys is a nice place to start.
I began working with survey companies when my son was born four years ago. It's not a get rich method, but it definitely helped my family! I took surveys for about an hour a day and would make around $100 a month – which was really helpful for our growing family!
Head over here to sign up for PineCone Research and here are a few more details from the site:
It's easy and fun to see and evaluate new product ideas in the comfort of your own home. You will earn points for each completed product survey, which can be exchanged for cash and other rewards. PLUS you will be automatically entered into a bi-weekly Sweepstakes to win additional cash prizes for your time. Each interview usually takes 15-20 minutes of your time. Plus, you are free to leave the panel at any time should you choose to do so. 
Disclosure:  This post contains affiliate links.  See our complete disclosure policy here.