Peter Rabbit Movie Review

You know the feeling you get when you see an awesome movie trailer that gets you all excited to see a movie and then afterwards you realize that all the good parts were in that 2 minute trailer? That is NOT the case with Peter Rabbit! I have to admit that when I first saw the Peter Rabbit trailers I didn't have high hopes for the movie. After seeing it, I realized that my expectations had been WAY too low! The row of 7 constantly giggling kids sitting to my right in the theater would agree!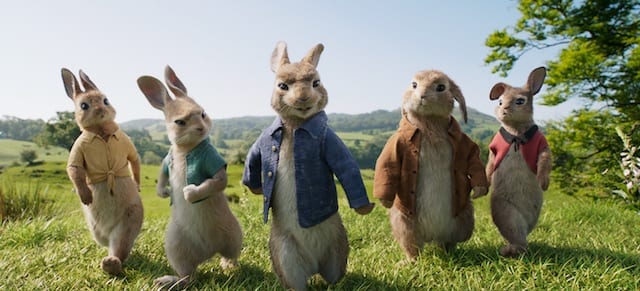 Peter Rabbit starts with the inspiration of the classic Beatrix Potter characters and sets them in a modern-day world made up of a combination of live action and animation. This combination works so well in Peter Rabbit because the animation by Animal Logic is so realistic! It looks like there are real animals up on the screen. That very real-looking Peter Rabbit is voiced by James Corden, who gives Peter his playful, funny and exuberant charm!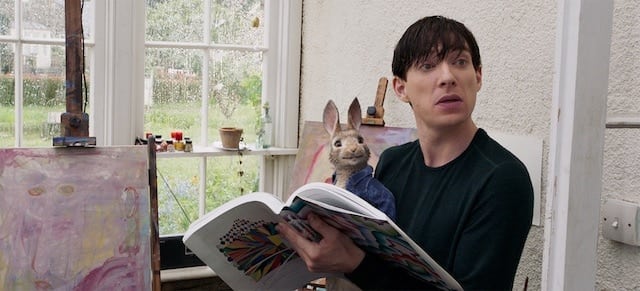 This live action/animated visual world sets the scene for a rollicking story in which Peter, his family and friends do battle with Mr. McGregor (Domhnall Gleeson) who has recently inherited the home and garden of Old. Mr. McGregor, his uncle. Domhnall Gleeson is already skilled at playing the villain with his role as General Hux in the Star Wars franchise), but he brings a lot of comedy to his role as the antagonist in Peter Rabbit. His scenes at the beginning of the movie as an obsessive store manager at Harrods set the tone for just how far he will go to reach his goals, which soon turn to keeping Peter Rabbit out of his garden.
Joining Peter in his adventures are his family of Flopsy (Margot Robbie), Mopsy (Elizabeth Debicki), and Cotton-Tail (Daisy Ridley), as well as his cousin Benjamin Bunny (Andrew Clitheroe). Along with the family, we have other classic Beatrix Potter characters Pigling Bland (Ewen Leslie), Mrs. Tiggy-Winkle (Sia), Johynny Town-Mouse (David Wenham), Tommy Brock (Sam Neil), Jemima Puddle-Duck (Rose Byrne) and Mr. Jeremy Fisher (Domnhall Gleeson). Adding to the mayhem is a whole slew of other animals including birds, mice and a deer who literally freezes in headlights.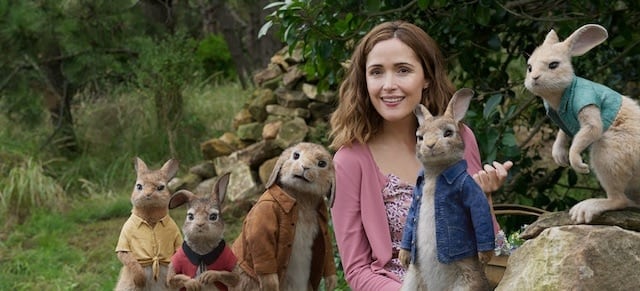 The constant friend to this fun and adorable animals is Mr. McGregor's next-door neighbor, Bea (Rose Byrne), a painter who creates quite horrible abstract paintings, but also dabbles in creating beautiful watercolor paintings of her animal friends. Things start to really go downhill for Peter and the others when a romantic relationship starts between Bea and Mr. McGregor.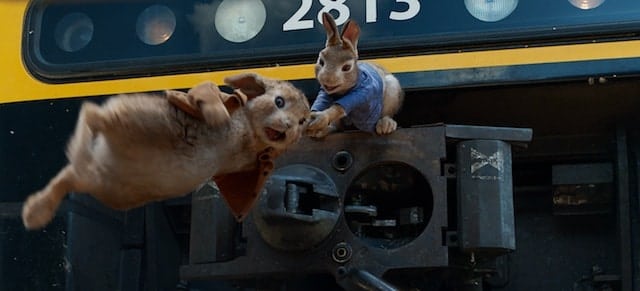 For me, I know when a kids movie has hit the mark when I hear childish giggles and guffaws throughout the movie with a few gasps during the perilous scenes. That's exactly what I heard all the way through Peter Rabbit. But the kids weren't the only ones laughing, I was laughing myself – a LOT! And while Peter Rabbit is very, very funny, it is also beautiful to watch with the setting of the English countryside and the adorable animals and the story kept us engaged throughout and warmed our hearts a bit at the end.
While James Corden does an amazing job of bringing Peter Rabbit to life and making us love him and Rose Byrne is simply lovely as Bea, Domnhall Gleeson quite steals the show. Peter Rabbit just wouldn't be the same without his Mr. McGregor.
About Peter Rabbit:
Peter Rabbit, the mischievous and adventurous hero who has captivated generations of readers, now takes on the starring role of his own irreverent, contemporary comedy with attitude. In the film, Peter's feud with Mr. McGregor (Domhnall Gleeson) escalates to greater heights than ever before as they rival for the affections of the warm-hearted animal lover who lives next door (Rose Byrne). James Corden voices the character of Peter with playful spirit and wild charm, with Margot Robbie, Elizabeth Debicki, and Daisy Ridley performing the voice roles of the triplets, Flopsy, Mopsy, and Cottontail.