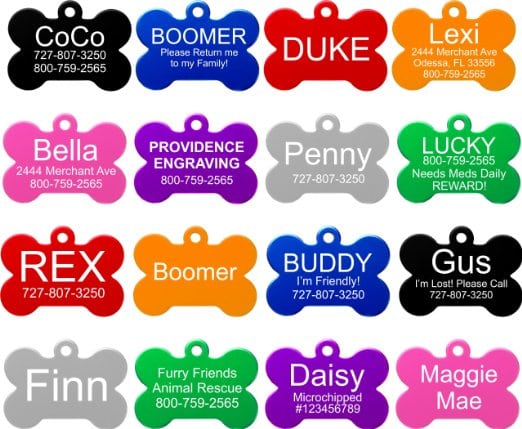 We all know the importance of carrying an ID.  In fact, most of us carry multiple forms of ID every single day.  Whether it be a driver license, a membership card, or just a form of photo identification, it is important to not only prove that we are who we are but also to identify us in the event of an emergency.  If you love your pets like they are family members then you should keep them protected just like you would a family member.  Unfortunately they can't carry around wallets or ID cards, so ordering a Pet ID Tag is the best thing that you can do for them!
Choose from different shapes: bone, round, heart, hydrant, paw, cat face, or star
Choose from different colors: blue, black, red, silver, gold, purple, green, pink, or orange
To personalize, add the item to your cart and check "THIS IS A GIFT", then in the Gift Message section put your choice of shape, color, and up to 4 lines of engraving information (up to 18 characters per line)
The price is just $3.75 plus free shipping right now, but Amazon pricing can fluctuate a bit. Make sure to double-check the price before adding one to your cart.