The Pedi-Relax with Essential Oils set pampers your feet with Pedi Relax cream for intense hydrating, exfoliating and protective barrier.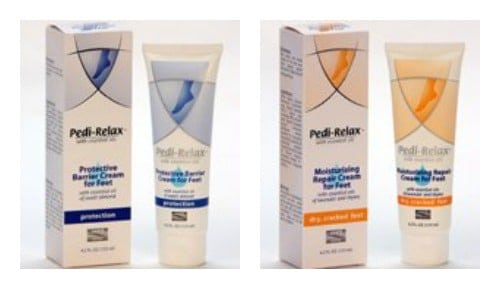 Santé Active, Inc., distributors of the French Pedi-Relax® foot care line have come out with a new Pedi-Relax with Essential Oils 3-Piece set, which makes a wonderful gift to pamper a special person on your list. The Pedi-Relax 3-piece set includes the Intense Hydrating Cream (for dry and damaged feet), Exfoliating Cream (to keep feet feeling soft and smooth), and the Protective Barrier Cream (prevents blisters). Here is a little more info on each of these products:
Intense Hydrating Cream for Feet
-Provides care in extreme situations
-Specifically formulated for extremely dry and damaged feet
-Scientific formula provides extreme hydration and protection for healthier skin
-Urea, Lactamide MEA, Petrolatum and Glycerin for moisture and hydration
-Limonene and Piroctone Olamine to protect feet
-Tocopheryl Nicotinate for circulation maintenance
Exfoliating Cream for Feet
-Specifically formulated for dry feet with calluses
-Provides strong exfoliation and also purifies to leave feet soft and smooth
-Lemon Peel Oil for purifying
-Urea, Lactic Acid, Salicylic Acid and Polyethylene Microbeads for exfoliating and smoothing
Protective Barrier Cream for Feet
-Specifically formulated to create protective barrier between feet and shoes
-Prevents rubbing and overheating during exercise
-Leaves feet feeling clean and refreshed
-Silicone and Squalane form protective barrier
-Sweet Almond Oil smoothes feet
-Blend of Sweet Almond Oil, Pro-Vitamin B5 and Squalane provide moisture
I recently received one of these sets to try out. I am very impressed! So far, I have been using a combination of the Exfoliating Cream in the shower in the morning and then the Intense Hydrating Cream both after my shower and then before bed at night. In the winter, my feet are usually dry, cracked, flaky and just generally disgusting. This combination has worked wonders. I could actually wear a pair of sandals without embarrassment, although I would freeze in an instant in the 10 degree weather we have right now! I can't neglect telling you about the scent. The essentials oils give all three products a very pleasing scent that isn't overpowering.
This set would make a perfect gift for anyone who has to spend a lot of time on their feet (nurses, restaurant servers, construction personnel, etc.) or just someone who likes to pamper themselves and do their own pedicures at home – which also makes this a frugal gift idea!