This is a sponsored post written by me on behalf of Pompeian Grapeseed Oil Spray.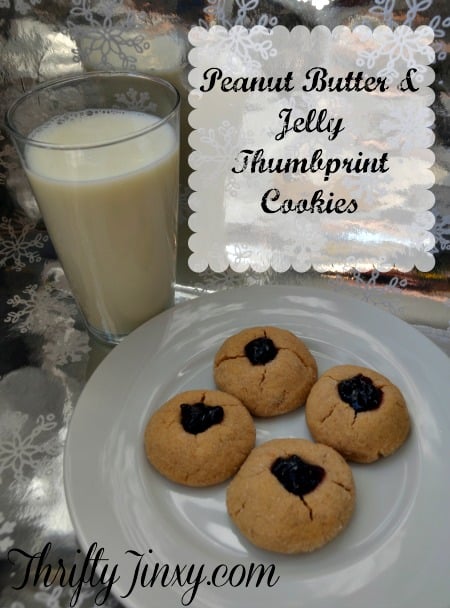 It may sound corny, but one of the most important ingredients in holiday baking is love.  For me, that means going as far as making cookies that I don't personally like at ALL just because those I love enjoy them and I like to see everyone happy – especially in this special season.  The number one example of that is Peanut Butter and Jelly Thumbprint Cookies.
Personally, I don't like Peanut Butter and Jelly Thumbprint Cookies AT ALL!  The reason is that I'm not a fan of jelly, especially in baked goods.  For me there is nothing much sadder than reaching into a box of a dozen donuts and realizing the only ones left are jelly filled.  (Yes, that one should be hash-tagged with #FirstWorldProblems.)  So, despite being anti jelly in baked goods, my husband's very favorite holiday cookie is Peanut Butter and Jelly Thumbprints.  So what do I do every year?  I make them.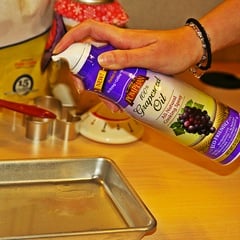 This year I had a little help to make the baking even easier.  Pompeian Grapeseed Oil, imported from France, has a light flavor with a high smoke point. Pompeian Grapeseed Oil Spray is an all-natural cooking spray perfect for sautéing, grilling and stir frying.  It has no preservatives, no propellants, no additives and no cholesterol.  It's also naturally gluten-free.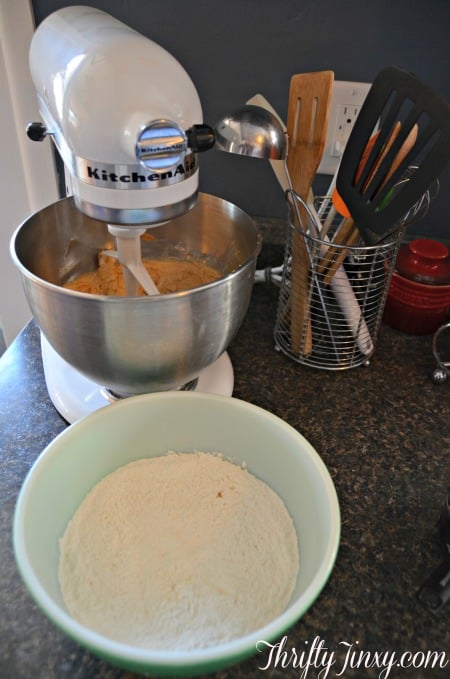 Peanut Butter and Jelly Thumbprint Cookies

1 1/4 cups flour
1/2 tsp baking soda
1/2 tsp baking powder
1/2 tsp salt
3/4 cup peanut butter – smooth is best
1/2 cup butter, softened
1/3 cup brown sugar
1/3 cup white sugar
1 egg
1 tsp vanilla
1/2 cup jelly or jam (strawberry looks Christmassy, but I like grape to add color variety to a tray of assorted Christmas cookies)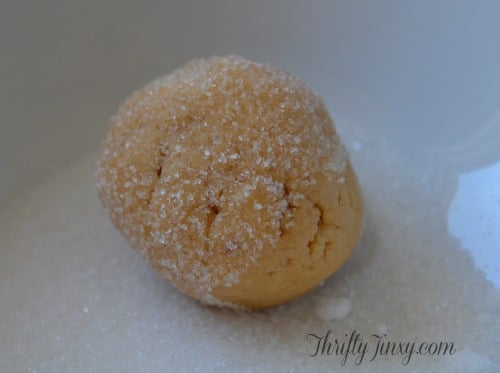 Heat oven to 350 degrees. Prepare baking sheet
cookie sheets by spraying with Pompeian Grapeseed Oil Spray and dusting lightly with flour. Blend together flour, baking soda and powder and salt and set aside. Beat butter and peanut butter with an electric mixer until smooth. Add sugars and beat until fluffy. Blend in egg and vanilla. Add in the flour mixture and stir until combined.
Place additional white sugar in a small bowl. Form balls using 1 Tablespoon of dough for each cookie. Roll the balls in the sugar and then place on prepared cookie sheets about 2 inches apart.  Use the handle of a wooden spoon to press a hole into the top of each cookie.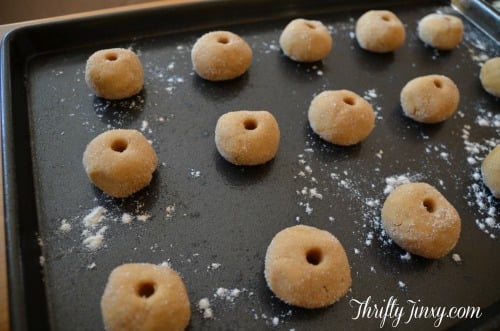 Bake for appx 12 minutes or until puffed up and edges are just beginning to brown. Remove cookies. If the dents have "closed up" too much, re-dent them again. (I used the back of a 1/4 tsp measuring spoon and it was perfect.)  Allow to cool completely on wire racks.
Put about 1/2 tsp of jelly in the dent on each cookie. Enjoy!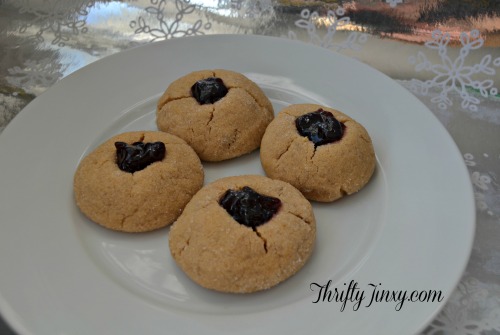 Pompeian Baking for Better Challenge:  Pompeian has partnered with celebrity pastry chef and executive chef of Charm City Cakes, Duff Goldman, for the Baking for Better Challenge. Now through December 6, you can enter for your chance to win a $5,000 donation in your name to a food bank of your choice and and a Pompeian gift basket to continue baking better all year long!  To enter:
1. Follow @Pompeian on Instagram –www.instagram.com/pompeian
2. Upload a photo to Instagram showing how you are bettering your baked goods with Pompeian Grapeseed Oil Spray
3. Include the hashtag #Bake4Better and tag @Pompeian in the photo caption

For the Baking for Better official rules, please visithttp://www.pompeian.com/bakebetter.  Coupons for Pompeian products can be found at http://www.pompeian.com.
This is a sponsored post written by me on behalf of Pompeian Grapeseed Oil Spray.