I remember the "olden days" when almost every woman had a checkbook in her purse and many guys carried them around in their back pockets. While paper checks can still come in handy (my mom uses them all the time!) there is now a new way to pay – Deluxe eChecks powered by VerifyValidTM.
The Deluxe Corporation may already be familiar to you as they have been providing personal checks for almost 100 years. This industry leader is now introducing this new payment innovation. Deluxe eChecks feature cutting-edge technology and are the only online payment solution that can work for everyone. With eChecks you can quickly and easily pay from anywhere at any time – and it's all very secure!
I recently received a Deluxe eCheck to test out how it works. It is so easy that this paragraph is going to be crazy short. I received an email with a link to my check. I clicked on the link and entered the 8 digit code from my email to get to a page with my check. I printed it out.
THAT'S IT!! This is what my check looked like: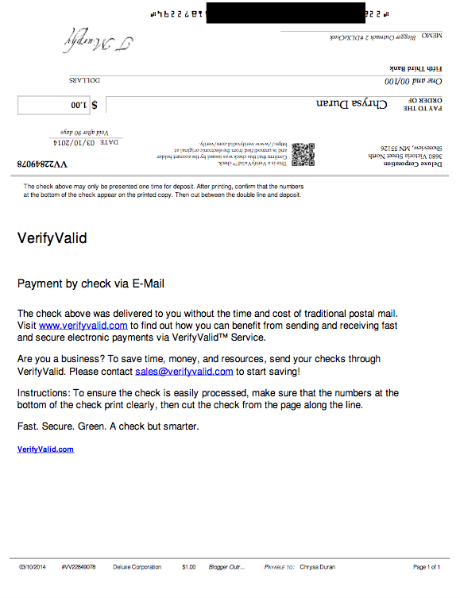 One thing I like about this service is that payees aren't required to enroll to receive a Deluxe eCheck, so you can send electronic check payments to anyone. There's no need for them to have a Deluxe eCheck login or account. You just send it to them. There is no other online payment solution offers that convenience.
To cash the check I received to do this Deluxe eCheck review I could have just driven to the bank and deposited it like any other paper check. But, I usually deposit my checks via a smartphone app, so that's what I did with this check as well. I was a little concerned about whether I would have any issues on my bank's end – but it was as easy as pie. Within a few minutes I had an email confirmation that my deposit had been successful.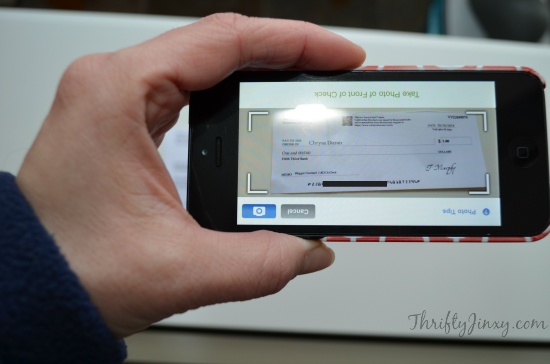 Right now you can even take advantage of a special offer to try 5 FREE Deluxe eChecks with no strings attached. To send checks, you will need to sign up and connect a checking account you'll want to use for sending your payments.