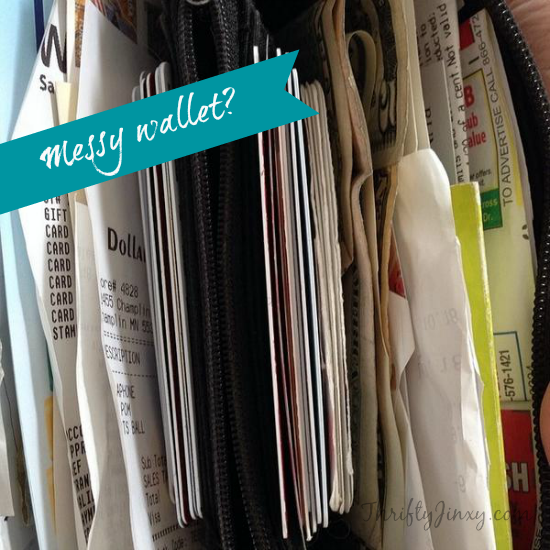 You rush into the drugstore to grab just one item. You get to the cash register and pull out your wallet. Ugh! Why isn't your credit card in the right spot in the wallet? Where is that loyalty card? Is it also in the wallet? Is it on your keychain? – – Has a similar scenario ever happened to you? If you have a messy wallet like this one, it's very likely that it has. Since that is a picture of MY wallet above, it has definitely happened to me!
I was SO excited to start using Softcard by Verizon and the first place I tried it was at the drugstore. What is Softcard? It's a super convenient and safely password protected app that lets you pay with a tap of your smartphone and save with special offers and store loyalty or membership cards.
Setting up Softcard was much easier than I expected it to be and is done right from your smartphone itself. You can link it with an existing debit card, but you also have the option of signing up for an American Express Serve Account. I highly recommend that option because it's easy to do and lets you get some awesome bonuses – bonuses that I call "free money" because they are cash back for things I would have bought anyway. Current offers via Softcard include:
Spend $40 and Get $20: Verizon customers with an American Express Serve Account on Softcard from Verizon can get a $20 credit after you spend $40 or more on one purchase with your Serve Account through September 30, 2014. Terms Apply.
$1 back on purchases: Tap to pay with an American Express Serve Account in Softcard and get $1 back on each purchase of $1 or more. Up to $50 per month with the Serve credit through December 12, 2014. Terms apply.
First 3 Coca-Cola drinks are FREE. After the first three drinks, if you buy 10 or more, you get another 1 FREE through December 31, 2014. You must sign up for the "My Coke Rewards" loyalty card within Softcard to take advantage of this offer.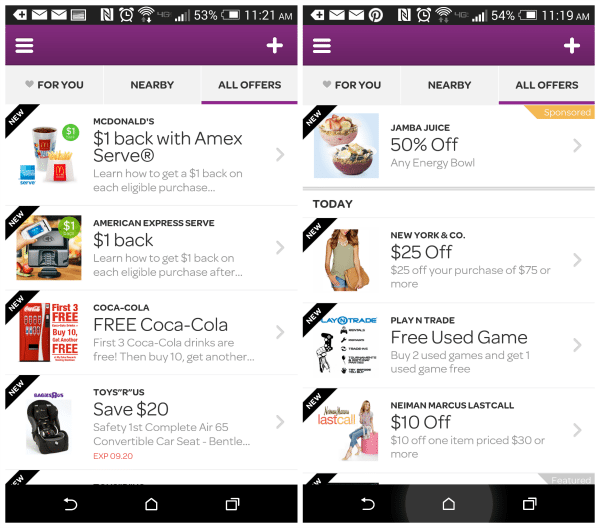 There are also lots of deals available through individual stores. Some of these offers include:
White House Black Market – $20 off $80 (ends 10/31)
Osh Gosh – 20% off $40 or more (ends 9/30)
Chico's – $25 off $100 or more (ends 10/31)
Carter's – 20% off $40 or more (ends 9/30)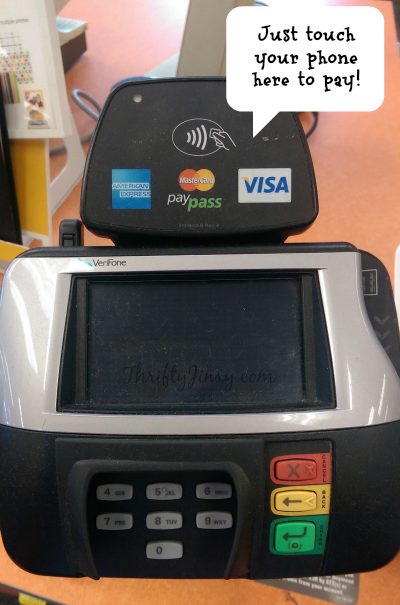 Actually using Softcard by Verizon is SO easy. All you do is tap the back of your phone to the payment terminal. That's it! The added benefit is that you can store your store loyalty cards right in the app, so if you have a loyalty card for the place you're using Softcard, the app automatically sends that number over at the same time as your payment, saving you yet another step.
You can pay with Softcard anywhere contactless payments are accepted, at over 200,000 locations nationwide. And, if you are security conscious, Softcard uses state-of-the-art technology and layers of security to protect your information. Plus, every time you open the Softcard app, you need to enter your 4-digit pin to use it – just like the debit card in your wallet.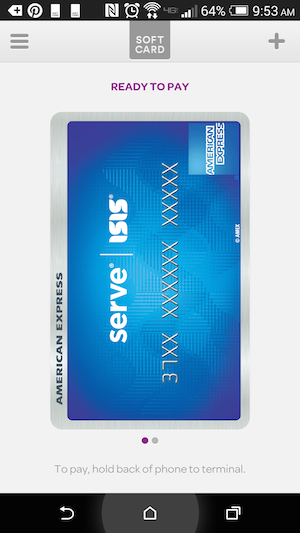 I'm really enjoying using Softcard by Verizon. The convenience is great and you have to admit it is pretty cool to pay by just holding up your phone! I also love having a payment method available when I don't have my purse along. When I walk my dog or run around the neighborhood I always have my phone – NOT my wallet. And those bonuses are REALLY winning me over right now. They will be adding up to a nice amount of savings!
Disclosure: I am part of the PTPA Brand Ambassador Program with Verizon Wireless and I received compensation as part of my affiliation with this group. The Softcard related content is provided by Verizon Wireless. The opinions on this blog are my own.