Summer will soon be here with TWO patriotic holidays that are some of our favorite days for backyard BBQ celebrations with our family and friends.
Treat your party guests to some patriotic party gear so everyone can get their stars and stripes on even if they didn't show up to the party already wearing red, white and blue. It will add to the festive mood and get everyone into the party spirit!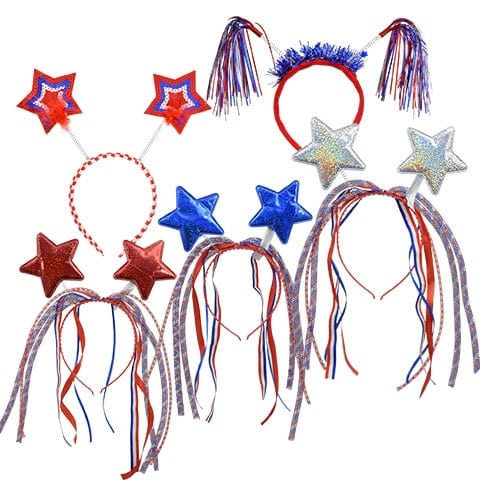 Patriotic Party Gear Ideas:
When your guests arrive to your event, have a table near the entrance stacked high with hats, jewelry and other patriotic party gear.
Set up a photo booth! Have a designated station for taking photos complete with a photo printer or instant camera so your guests can display their photos for everyone to see.
Have a contest! See how can come up with the best combination of party gear to let the red, white and blue shine. Have a fun prize for the winner!
Red, White and Blue Party Gear:
You can keep the cost of your patriotic party gear low shopping at DollarTree.com, where everything is just a dollar each. These are just a few of the many red, white and blue options the have:
Patriotic Flashing Star Beaded Necklaces

Patriotic Printed Bandannas

Patriotic Flower Leis

Patriotic Headband Boppers

Patriotic Fairy Wings

Mini Plastic Patriotic Hats

Patriotic Wands

There is lots more to choose from at DollarTree.com. If you want to let your guests (especially the kids!) get really creative, you can also have some glitter, markers, scissors and glue sticks on hand to let them use your red, white and blue party supplies like paper plates and plastic cups to design their own creations!
Looking for some more patriotic holiday fun? We have lots of fun ideas and recipes here on ThriftyJinxy.com and also visit ChicNSavvy.com for some more red, white and blue ideas!