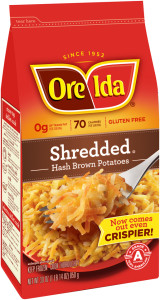 Who wants brunch? I know I am getting VERY hungry just thinking about potato goodness as I prepare to tell you that you can print a Ore-Ida Shredded Hash Brown Potatoes coupon from Walmart.com. As I was growing up, my family was a bunch of very frequent hash browns eaters! My little sister was the hash brown queen! Sometimes when we went to a restaurant, the ONLY thing she wanted to order was a big plate of hash browns, with a big dollop of butter on top, of course.
We all still love hash browns and I especially like that it is so much easier to make them at home now. The latest version of Ore-Ida Shredded Hash Brown Potatoes turns out even crispier – and that's just the way I like them! A nice golden crust on top is the perfect barrier before getting down to the tender potato layer underneath. YUM!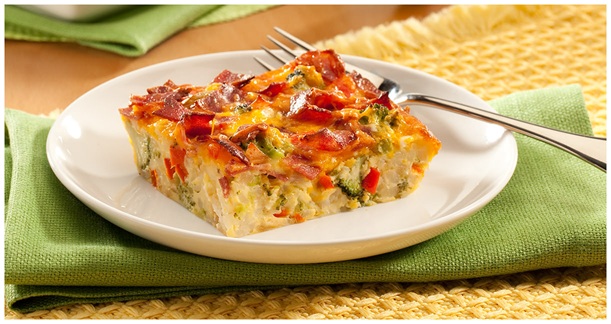 I have been getting myself even MORE hungry this morning after checking out all the amazing Hash Brown Recipes they have on the site – just what we need for Easter brunch or any brunch menu! Take a look at this Cheesy Bacon Hash Brown Bake! Not only does it have Ore-Ida Shredded Hash Brown Potatoes, but it also has cheese and bacon – two more of my favorites! It's an easy way to make an all-in-one brunch meal.
So, head on over to check out all of the Hash Brown Recipes and don't forget to print your Ore-Ida Shredded Hash Brown Potatoes coupon!
Thanks to #CollectiveBias and #OreIdaHashbrown for sharing this coupon and recipes with us!