Promote healthy skin, shiny coat, joint, and immune health in your dog with Wild Alaskan Salmon Oil. Our Toby loves it! See our review.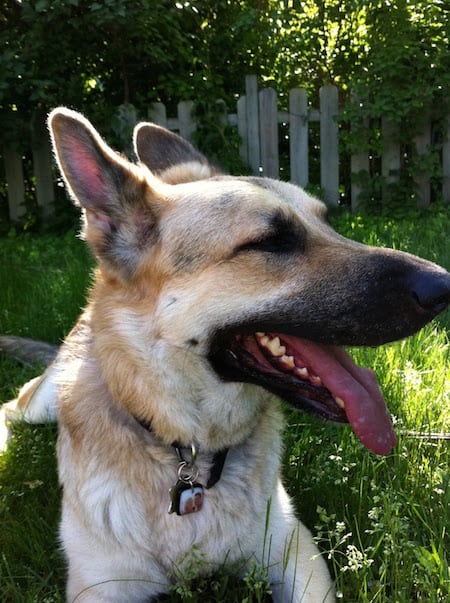 When we first brought Toby home as a rescue just over a year go, we were given a bottle of fish oil pills to give to him. His coat and skin were in rough shape and the vet suggested the oil to improve it. Well, he refused to eat those liquid-gel capsules, no matter how yummy a treat I hid them in.
So, I resorted to taking a steak knife and puncturing the capsule and squeezing it out onto his food. Not only was this annoying to do, I also would randomly squirt fish oil on the wall, floor, etc. AND I would end up with super stinky fingers. Over the year I still tried to give him the capsules from time to time, but once he got healthier it was harder and harder to go through that hassle to give it to him.
Salmon oil promotes healthy skin, shiny coat, joint, and immune health in dogs, so it's great for all dogs, not just those who are recovering from a condition/illness.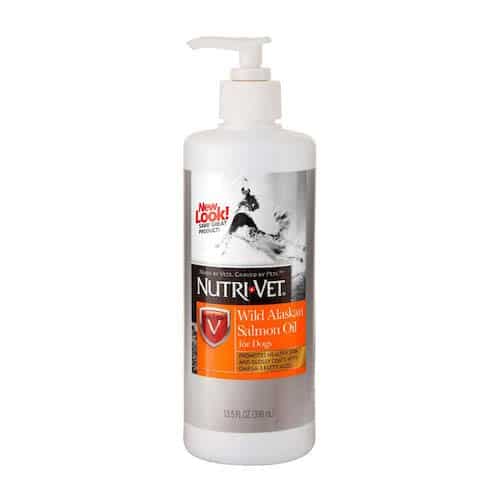 So, I jumped at the chance to try Nutri-Vet Wild Alaskan Salmon Oil for Dogs because it is in liquid form in a super easy-to-use pump bottle. It provides levels of both omega-3 and -6 essential fatty acids (EFAs) not commonly found in pet foods and is made only from wild, non-farmed Alaskan salmon and stabilized with natural anti-oxidants to maintain its fatty acid content and taste. Drip and odor is reduced by adding food-grade, inert silica.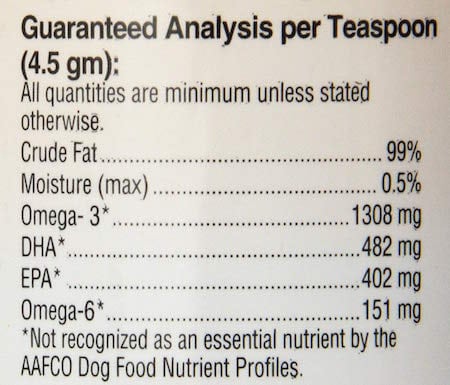 How to Use Salmon Oil for Dogs:
To use the oil, all you do is put a few squirts in with your dog's food, one pump per 10 pounds of body weight daily. The other benefit for us is that Toby isn't always a great eater, but he loves the taste of the salmon oil so he's much better about eating his food.
Benefits of Wild Alaskan Salmon Oil for Dogs:
Promotes healthy skin
Helps a shiny coat
Supports joints health
Supports immune health
Wild Alaskan Salmon Oil Drip Less Odor Less is available in both 6.5 oz and 13.5 oz bottles and also in a 2-pack. Find it HERE. They also offer a formula for cats, which I may need to try for our cats, but right now I am very happy with this option for fish oil for cats.