Have you ever heard of the term "noseblindness"? Even if you have never heard of it, you have probably been a victim of it. It refers to when, over time, you become accustomed to the odors around you. So basically, if you cook a certain food over and over again and the scent lingers in your home you don't even notice it after a while. BUT, when someone else comes into your home, they smell it immediately.
This can be particularly true for those of us with pets. No matter how cute and lovable they are, certain odors come along with pet ownership. Dogs have that "dog smell", small animals have the smell of their cages and cats come along with that oh-so-lovely litter box odor. Over time, we can get used to those odors and we really don't even smell them any more. BUT, when a guest comes to our home that smell can hit them right away. I don't know about you, but I find that very embarrassing!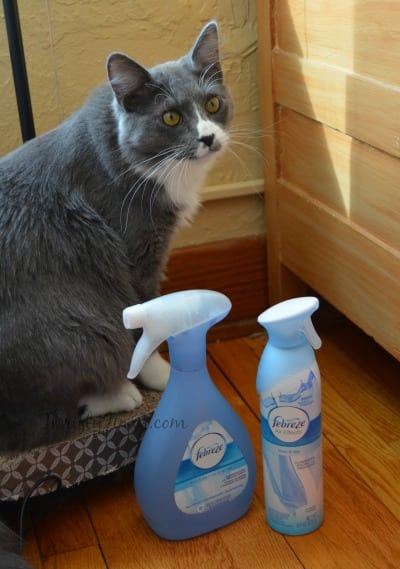 So, my feeling is that we are best off fighting odors whether we smell them or not. And you can do that while still keeping your pets safe. Febreze Air Effects, Fabric Refresher and Car Vent Clip products all meet the standard to appear on the ASPCA's Pet Friendly Living List. For almost 150 years, the ASPCA has been the nation's leading voice for animals. In order to use the ASPCA Pet Friendly Living logo on a product, its ingredients must be reviewed by the ASPCA and be determined to be non-toxic to animals when used as directed.
And we don't want anyone to NOT have pets or NOT have guests because of odors! Actor and comedian Jane Lynch (Glee, Hollywood Game Night, Christopher Guest films) has teamed up with Febreze to encourage dialogue about Noseblindness. And making sure it doesn't keep people from adopting pets or from socializing with guests in their home.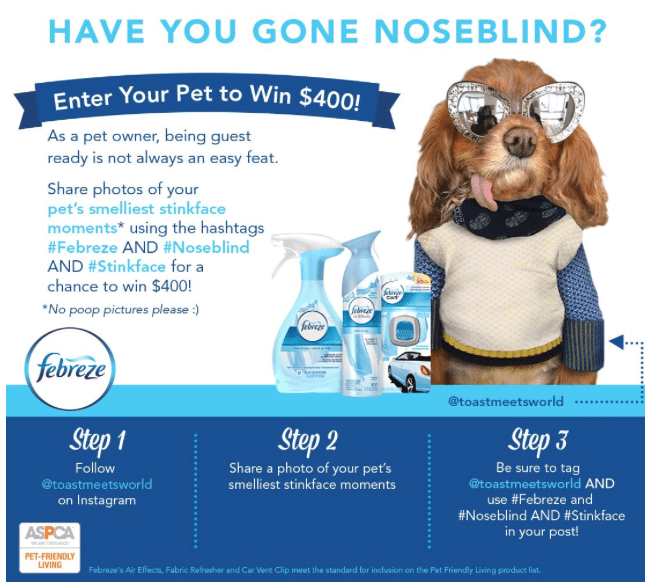 You can get involved by sharing a photo on Instagram of your pet's smelliest stink face moments for a chance to win a $400 grand prize package. Here is how to participate:
STEP 1: Follow @toastmeetsworld On Instagram
STEP 2: Share a photo of your pet's smelliest stink face moments
STEP 3: Be sure to tag @toastmeetsworld AND use #Febreze and #Noseblind AND #Stinkface in your post!
For more information, be sure to follow Febreze on Twitter and Facebook.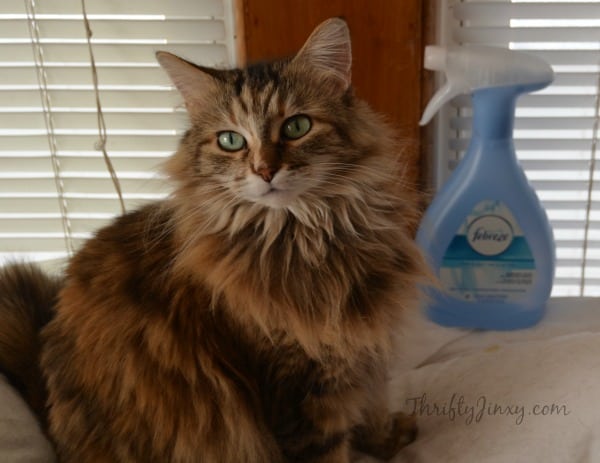 Reader Giveaway: We have teamed up with 24 other pet-owning bloggers to offer one lucky reader the chance to win a Febreze prize package including: $25 worth of Febreze product, a universal smart phone camera lens kit, and a $100 gift card to PetCo ($200+ value). Just complete the entry form below for a chance to win.
Disclosure: This post and giveaway were made possible by Double Duty Divas and Febreze. I was compensated for my participation in this campaign, but all opinions are 100% mine.