Transformers!
More than meets the eye.
Transformers!
Robots in disguise.
I just can't think about Transformers without the classic theme song running through my head. My first introduction to the Transformers was in high school when my then-boyfriend was obsessed with Transformers. I thought it was a bit silly for someone "so old" to like Transformers, but he did, and he even gave me my own Grimlock toy, which I still have to this day.
Fast forward many years later and my husband (who is NOT my high school sweetie) is also a BIG fan of the Transformers – and he thinks my classic Grimlock is pretty cool!
The awesome thing about Transformers is that they continue to gain new generations of fans. My 6-year-old nephew is the latest to learn about Transformers and there are a whole bunch of cool new toys from Hasbro that both the little fans and the grown-up fans can enjoy.

We recently received some of these fun new toys to try out. The first of these are the Transformers Age of Extinction One-step Changers. You know how in the movies and cartoons the Transformers so smoothly and quickly change from robots to vehicles? The one-step changers replicate that instant conversion by letting you switch between modes in just one quick step. You just flip to change – super fast!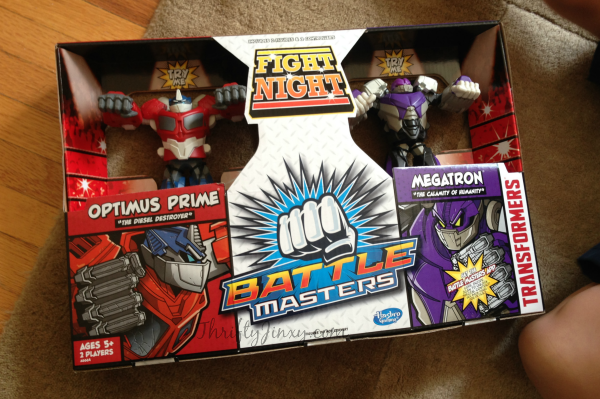 Another new toy is the Transformers Battle Masters Game. With this two-pack, which includes both Optimus Prime and Megatron, you and a friend can go head-to-head in a battle to the finish.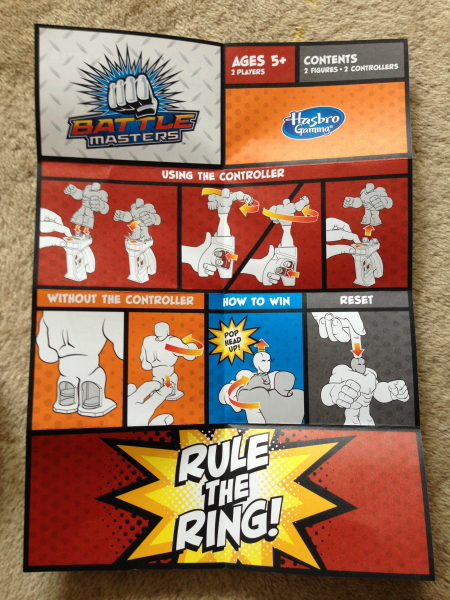 The object of the game is simple – just punch, jab and strike your opponent until one of you pops up the other's head to win. There are two ways to play – either with or without the controller.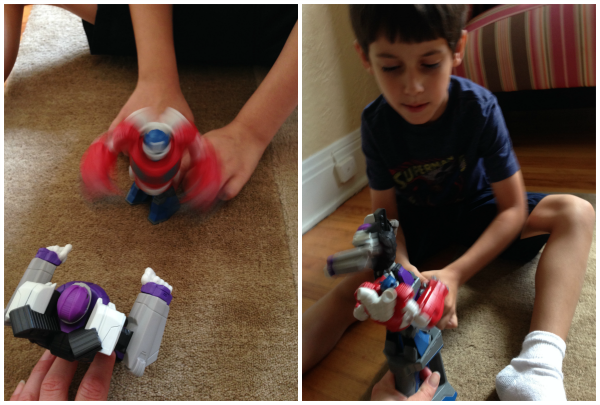 You can see us in action in this video. Since Little R has little hands, it was a little tricky for him to play WITH the controllers, but he was still determined – and actually did win most of the time. (By the way, it's a bit tricky to battle and film at the same time!)
Without the controllers attached, Optimum Prime and Megatron stand up all by themselves. They make pretty cool figures to decorate a shelf!  And of course you can always grab them for a quick battle at any time.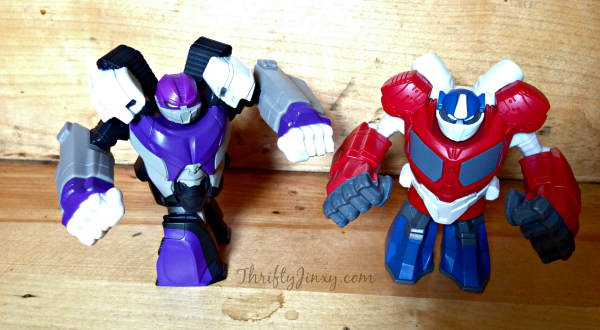 And, since we had places to go, but we weren't quite finished playing, we were even able to take the Transforms Battle Masters in the car with us. We had a heated front seat to back seat battle while parked in a parking lot!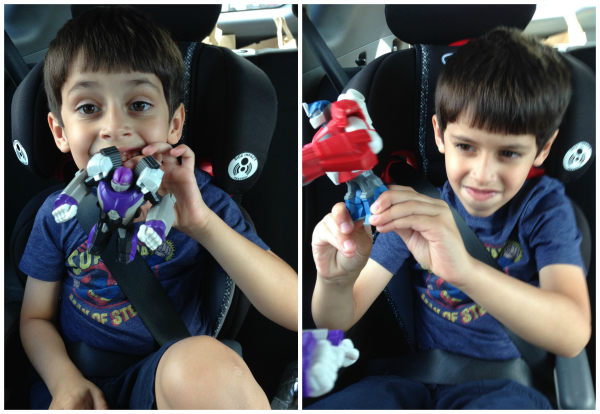 Also new for the younger set are Playskool Heroes Transformers Rescue Bots. Designed for ages 3 to 7, its easy for little hands to convert Bumblebee from robot to raptor. To share some of the Transformers fun, we have a Rescue Bot to share with a lucky reader!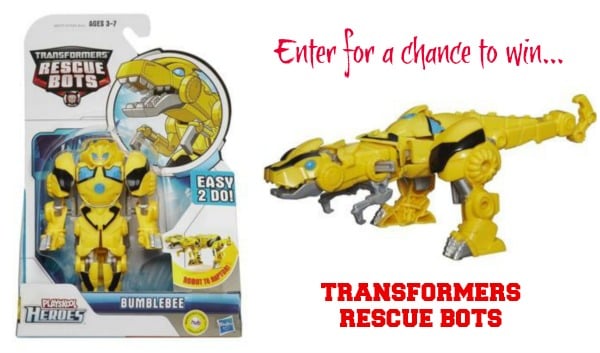 Reader Giveaway: One lucky Thrifty Jinxy reader will win a Playskool Heroes Transformers Rescue Bot Bumblee. To enter, just complete the entry form below by 11:59pm ET on 10/8/14. Goodluck!