The March Target Beauty Box is now available, and they still have the February Target Beauty Box, too! These boxes are an awesome way to try out the top trends in beauty for just $7! Take a peek at what's inside these boxes: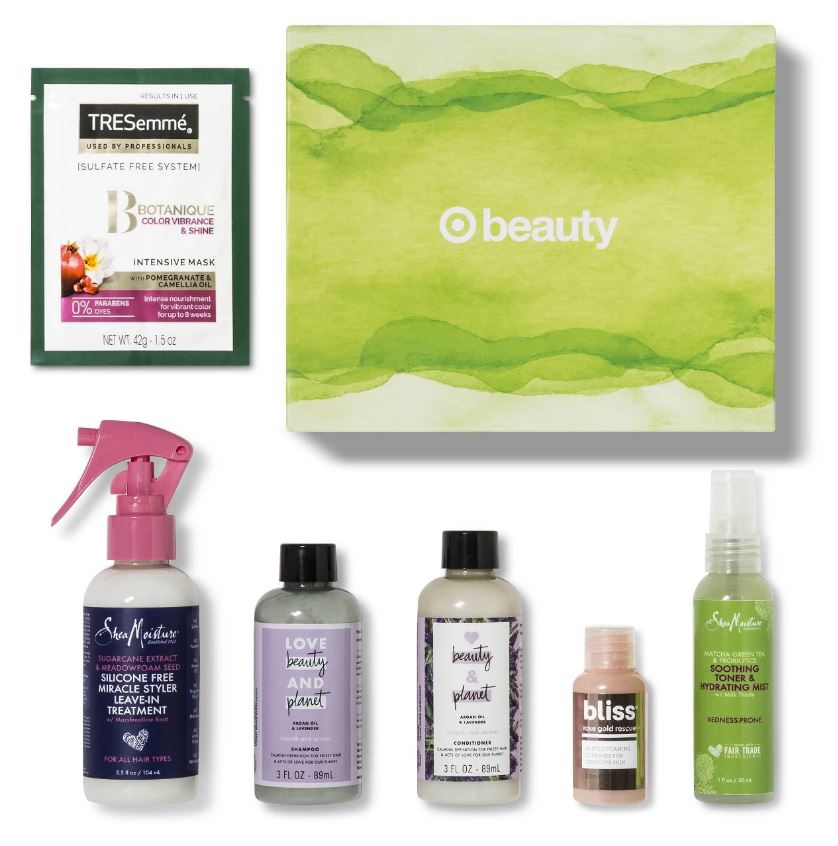 Bliss Rose Gold Rescue Gentle Foaming Cleanser
Rose water extract acts as a natural astringent, gently removing excess oil and grime, while rose gold shimmer gives skin a subtle glow.
Love Beauty & Planet Smooth and Serene Argan Oil & Lavender Shampoo
Rich blend of golden argan oil and French lavender leave locks smelling fresh and help keep strands frizz-free.
Love Beauty & Planet Smooth and Serene Argan Oil & Lavender Conditioner
Anti-frizz formula infused with golden argan oil and French lavender smooths strands and nourishes hair for healthy-looking locks.
TRESemme Botanique Nourish & Replenish Mask
Botanical blend of pomegranate and camellia oil gives strands a surge of intense hydration, leaving locks soft.
SheaMoisture Matcha Green Tea & Probiotics Soothing Toner & Hydrating Mist
Antioxidants and matcha green tea help hydrate and soothe redness, while nourishing probiotics restore balance to the skin to fight future flare-ups.
SheaMoisture Silicone Free Miracle Styler Leave-In Treatment
Innovative blend of sugarcane and nourishing botanicals leave tresses tangle-free, so strands are manageable and luxurious.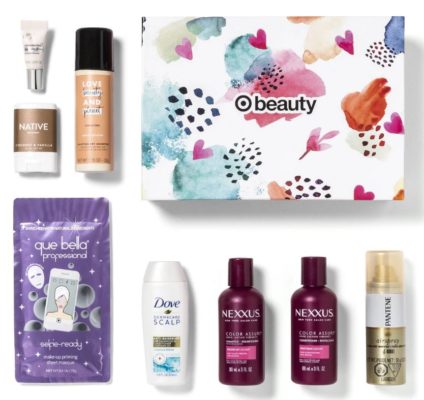 Nexxus Color Assure Vibrancy Retention Shampoo
Color-protecting shampoo, infused with a conditioning polymer, locks in vibrancy so strands feel nourished and look radiant.
Nexxus Color Assure Vibrancy Retention Conditioner
Salon-crafted formula uses advanced conditioning technology that locks in color and leaves hair fibers silky-smooth.
Love Beauty & Planet Citrus Peel Dry Shampoo
Instantly refreshes hair with the energizing scent of citrus peel so day-old locks look bouncy and full of life.
Pantene Airspray Hairspray
Alcohol-free spray provides a flexible hold that leaves hair moisturized and silky soft—no stiffness or stickiness!
No7 Laboratories Line Correcting Booster Serum
Clinically proven serum formulated with advanced anti-wrinkle peptide technology reduces the appearance of fine lines—in just 12 weeks!
Que Bella Professional Selfie Ready Sheet Mask
Smooths and tones skin, while tightening pores, so you can say hello to a selfie-ready complexion. #nofilternecessary
Dove Shampoo/Conditioner 2-in-1 Clean+Fresh
Special formula renews hair's moisture balance, leaving strands flake-free—locks will feel as good as they look.
Native Coconut & Vanilla Deodorant
Coconut and vanilla deodorant provides long-lasting odor protection that goes on smooth and smells sumptuous.
Get yours HERE!