The January Target Beauty Boxes are available, and this month you can choose from TWO different boxes. These boxes are an awesome way to try out the top trends in beauty for just $7! Take a peek at what's inside this month's boxes: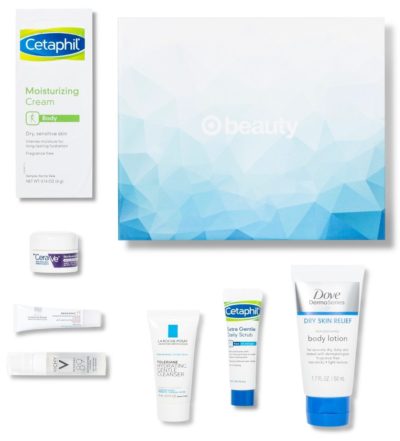 Target Beauty Box – January Skincare
Vichy Mineral 89
Mineral Rich Water and Hyaluronic Acid fortify skin, making it resistant to visible aging, all while delivering a boost of hydration—hello glow!
Cetaphil Extra Gentle Daily Scrub
Gently removes dirt, oil and impurities, while micro-fine granules buff away dry, dull skin leaving behind a gorgeous glow.
Cetaphil Moisturizing Cream
Rich blend of emollients and humectants binds moisture to the skin for a softer, smoother complexion.
Dove DermaSeries Body Lotion Replenish
Clinically proven to replenish extremely dry skin and restore its natural protective barrier over time.
La Roche-Posay Toleriane Hydrating Cleanser
Gently cleanses, while maintaining skin's natural pH balance, to restore moisture for a clean-and-clear complexion.
La Roche-Posay Redermic R
Potent retinol cream visibly reduces wrinkles, smooths texture and helps even skin tone.
CeraVe Skin Renewing Night Cream
Specially designed to work with your natural circadian rhythm to help restore skin's barrier overnight—wake up to a refreshed, renewed you.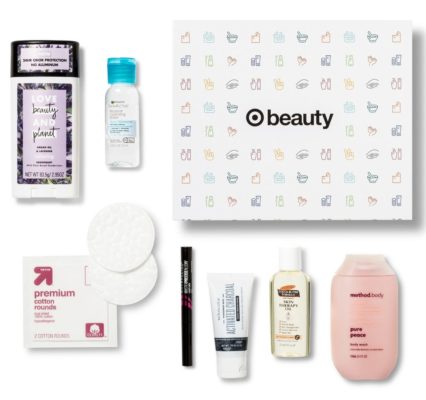 Target Beauty Box – January Beauty
Love Beauty & Planet Argan Oil & Lavender Deodorant
Moroccan argan oil leaves underarms moisturized while French lavender keeps you smelling fragrant all day.
Method Body Wash Pure Peace
Infused with peony, rose water and pink sea salt, this purifying body wash leaves skin thoroughly moisturized and smelling fresh.
Up&Up Premium Cotton Rounds
Dual-sided design is strong, soft and lint-free, making it the go-to for all skin care needs.
Maybelline Eye Studio Master Precise All Day Liner
Ultra-thin brush tip allows for perfect application so you can create a smooth, even cat-eye, every time
Palmer's Cocoa Butter Formula Skin Therapy Oil
Cocoa butter, vitamin E and natural oils work to improve the appearance of scars and help even skin tone, so you can say hello to a radiant complexion.
Schmidt's Naturals Travel Sized Toothpaste Activated Charcoal
Activated charcoal helps freshen breath, combat plaque, and visibly whiten teeth for a picture-perfect smile.
Garnier Micellar Water Waterproof
Gently cleanses and effectively removes even waterproof makeup—no rinse, no harsh rubbing, just refreshed skin!
Get yours HERE!