Taking care of your skin is important, especially with what the harsh winter weather has done to it. While most of us remember to wash and exfoliate our skin, a step that is sometimes overlooked is proper moisturizing. Sometimes applying lotion is just inconvenient or time consuming, but we have a new product to introduce to you that will help you save time in your skin care routine.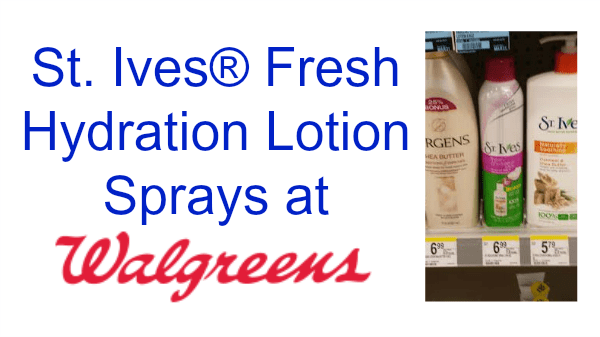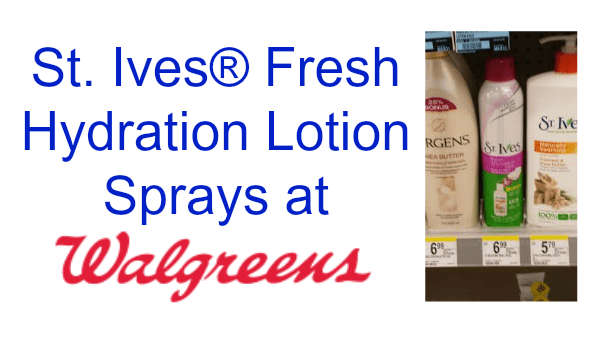 St. Ives has introduced a new Spray Lotion that is available at Walgreens. This spray lotion offers the same benefits as regular St. Ives lotion, but is easier to apply. Just spray it on! No need to rub it into your skin or to allow it to try. This is perfect for the busiest of people!
New St. Ives Fresh Hydration Lotion Sprays are made with 100% natural moisturizers:
Glycerin, which is known to moisturize skin
Shea butter, which contains skin moisturizing vitamins A, E and F
Fatty acids, which are known to place moisture back into thirsty skin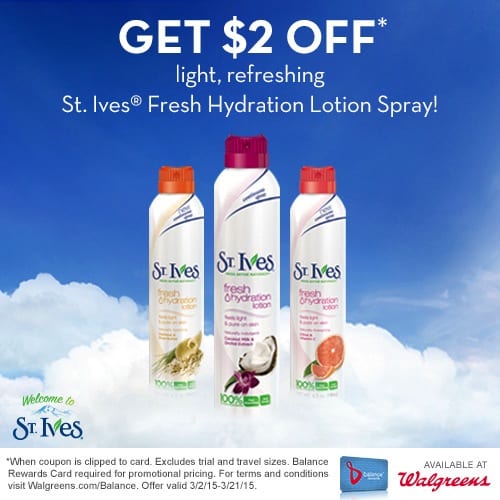 Now through March 21st you can try the new St. Ives Fresh Hydration Lotion Sprays for less at your local Walgreens. Simply click here sign in with your Balance Rewards Card login and you can clip a $2.00 off coupon straight to your card! This makes your final price around $4.99, which is a great price for this product!
Have you tried the new St. Ives Fresh Hydration Lotion Spray? Let us know in the comments!