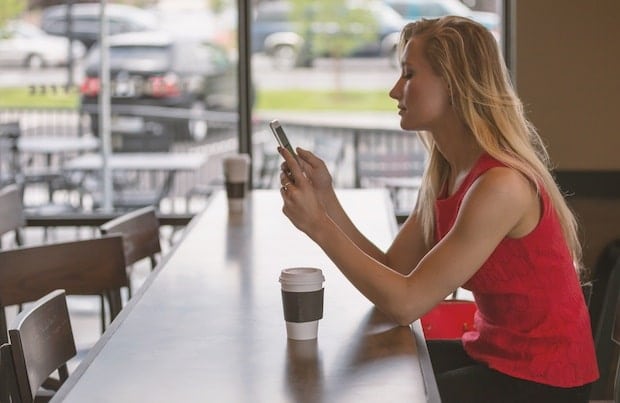 While it's always nice to score a great deal on a pair of shoes or by using a free coupon for an item at the grocery store, the really big savings come in when we can save on items we use every day. With these deals we can save a substantial amount and then turn around and use those savings on things that we WANT since we just saved them on things that we NEED. I like to think of it as a reward for having been a smart shopper and finding a great deal on the necessities. What's even better than a deal like that? TWO deals that can be combined to create awesome savings.
That's exactly what you can do now through March 31 when you switch your wireless service to AT&T. With the Switch & Save Deal, AT&T is offering up to $650 in credits when you make that switch. All you have to do is purchase a new smartphone on AT&T
NextSM, activate eligible voice & data service, port your current telephone number and trade in your current eligible smartphone1. Yes – so not only will you be getting big savings, you will be getting a nice, shiny new smartphone!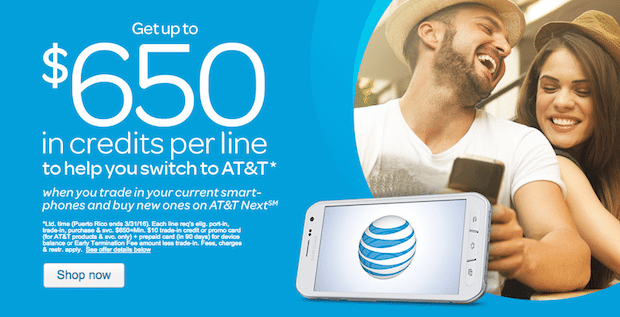 This offer is especially great for families, as well as for businesses with multiple smartphones. And it comes just in time for spring break preparations. You can make sure everyone can easily stay in touch with their new phones. Here are the details on how the Switcher Offer works:
Purchase a new smartphone on AT&T NextSM, activate a new line of qualified postpaid wireless service with AT&T, and port your number from Verizon, Sprint or T-Mobile.
Trade-in your current eligible smartphone (minimum $10 value) online or in our stores and receive either AT&T store credit or an AT&T Promotion Card in the amount of your trade-in value.
Submit the final statement from your previous carrier online.
Receive an AT&T promotion Visa pre-paid gift card in the amount of the early. termination fee or device balance owed on your final bill minus your trade-in value.
Receive total credits of up to $650.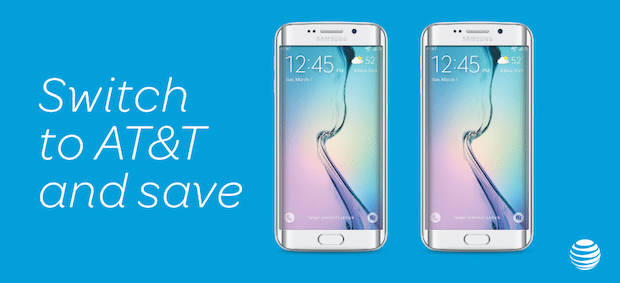 But – just wait a second! There is another offer too! The Switch & Save offer can be combined with AT&T's buy-1, get-1 free offer for AT&T's most popular smartphones when you buy both on AT&T Next2 for an even bigger deal! Here's how the BOGO offer works:
Available to new and existing customers
Must purchase two eligible smartphones from the same manufacturer on AT&T Next, our popular installment plan, as follows:
▲The first phone can be a new line or an upgrade.
▲The second phone must be a new line and purchased on AT&T Next 24.
Add both phones to a qualified plan, like Mobile Share Value, for as low as $70 a month for two phones.
After 3 bill cycles or less, you will start to receive up to $650 spread out over 30 monthly bill credits
Just pay tax on both phones at sale.
OK, so I know that was a LOT of information I just threw at you, but I wanted you to have all the details so that you know what's involved and exactly how to go about getting your savings! It's pretty easy, right? Especially for such a big amount of savings. Now the fun part comes – deciding how to spend all the money you just saved!
What is your favorite FUN way to spend your savings?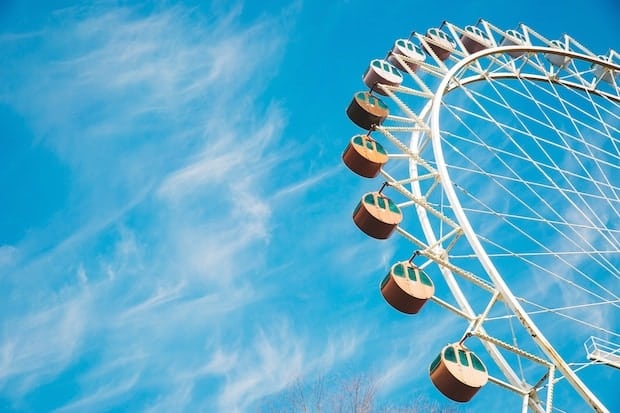 1Ltd time offer (PR ends 3/31/16). Each line reqs elig. port-in, trade-in, purch. & svc. Min. $10 trade-in credit/promo card (for AT&T products/svc only) + prepaid card (w/in 90 days) for device balance/early term. Fee amount less trade-in. Credits valid for 5 mths & not valid for cash.  Details at att.com/switch. Fees, charges and restrictions apply.
2Limited time offer (Ends 3/31/16 in Puerto Rico) Select devices. BOGO must be same manufacturer. Requires well qualified credit. Free device requires 30-month 0% APR agreement (up to $21.67 per month). Pay up to $65.01 on free device before credits start. If wireless service on a device is cancelled, that device balance (up to $950) is due.  Activation, other fees, monthly, other charges and restrictions apply. Void in CT, RI & Miami-Dade county. See att.com/buyonegiveone for details.