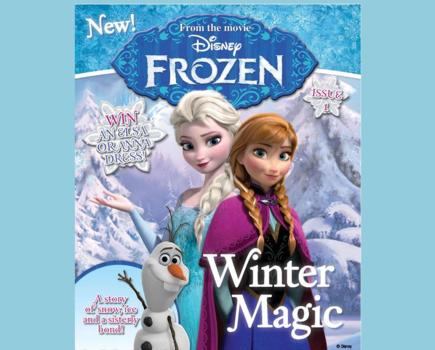 Thanks to reader Cindi for sharing this super fun find with us. If you have a daughter, niece, granddaughter or any little girl who is crazy about Frozen, there is now a Disney FROZEN Magazine! (Find it in the right side bar of that page.) If you pre-order now, you can become a Charter Subscriber. The first issue mails on February 20th, 2015! If you want to make this a Christmas gift, in early November you'll receive a link to print a special "Frozen" holiday card for your gift recipient(s) to let them know they'll be receiving a special gift in February 2015!
About the magazine:
Your child can join all the Disney FROZEN characters in this enchanting magazine. Every delightful issue comes with magical fairy-tale stories, fun activities, magical crafts, posters and more.

Each engaging magazine includes:

Exciting, and enchanting Disney FROZEN stories to read
Fun challenging activities and features
Creative crafts and delicious recipes
Collectible Disney FROZEN pull-out poster
Readers' picture gallery with chances to win prizes
And much more!
Right now you can order a one-year subscription (6 issues) for $15 – almost half off the $28 regular price. Valid only within the United States. You can order up to 6 subscriptions. ORDER HERE. (Look on the right side of the page.)
Disclosure: This post contains affiliate links that help support our site with no additional cost to you. See our complete disclosure policy here.