There is something new for our kitty friends from SHEBA® and I can't believe no-one has thought of this idea sooner!  SHEBA® recently introduced PERFECT PORTIONS™ Entrees, which give you TWO perfect-sized meals in every package, meaning a fresh meal every time. Each package has two separately sealed servings, which can easily be separated along a perforated line. Genius!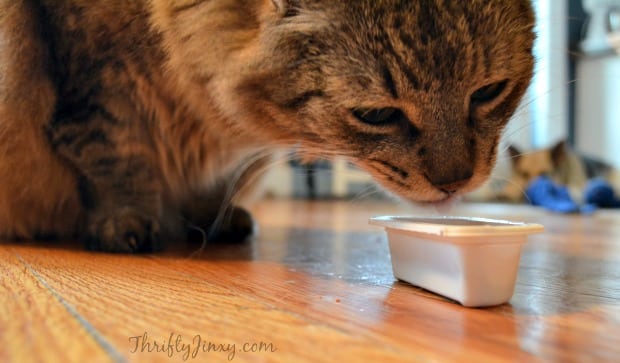 I don't know how many times I have opened a can of cat food to only put a portion of it into the cat bowl. Then I have to cover the rest of it up with a piece of aluminum foil or try one of those plastic cat food can lids (that never seem to fit right) and stick it in the fridge. When the rest of that can comes out of the fridge for the next meal, it is never as tasty for the kitties as it was when first opened, plus it is chilled! (Unless I am a super-nice cat mom and heat it up a bit, which is just more work for me PLUS the risk of making it too hot for the cats.)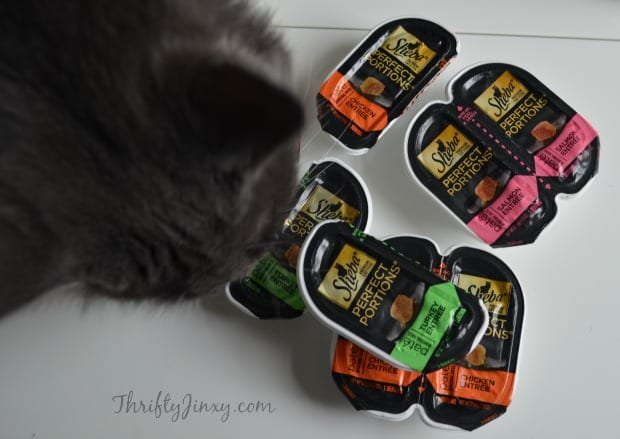 That doesn't happen with SHEBA® PERFECT PORTIONS™ Entrees because there is a fresh meal every time. But, there is more to PERFECT PORTIONS™ than just the genius packaging. All of the entrees begin with real meat such as beef poultry or seafood – and are formulated without grains, fillers and artificial flavors. So basically – all the good stuff in and the bad stuff out! Available varieties include Chicken Entrée, Turkey Entrée, Salmon Entrée, Beef Entrée, Chicken and Liver Entrée, Chicken and Tuna Entrée, Seafood Entrée, and Whitefish and Tuna Entrée.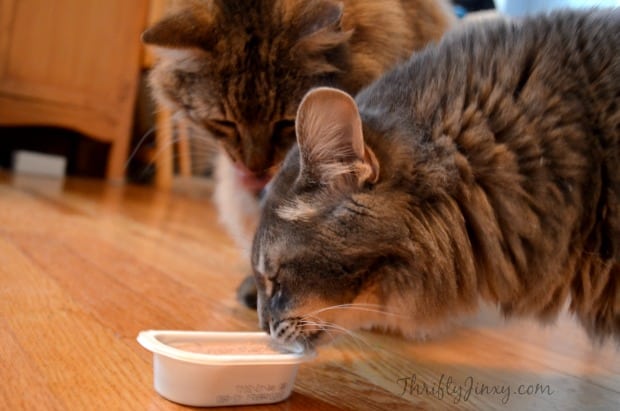 My cats LOVE the SHEBA® PERFECT PORTIONS™ Entrees. Since I have multiple cats, it's nice to be able to break up each package into two servings and give each cat their own portion. Although it is cute to watch them share a meal and steal it back and forth from each other with an outstretched paw, each cat having their own portion makes sure they each get a fair amount.
My older cats are crazy for seafood and liked the Salmon Entrée best, but the younger cats seemed to slurp up the Turkey Entrée the fastest. Although, I must admit it was tough to judge because they happily ate them all up! My oldest cat, Peanut, especially loves the "juice" in the entrée. He makes it his mission to tip over his meal so he can lap up all the juice first!
Buy It: You can use the SHEBA® product locator to find a retail store near you or buy online at Amazon.
Reader Giveaway: Two lucky Thrifty Jinxy readers will each win a one year's supply of Sheba, valued at $425 each! To enter, just complete the entry form below by 11:59pm ET on 8/2/15. You will receive a Buy one Get one FREE coupon just for entering! Good luck!