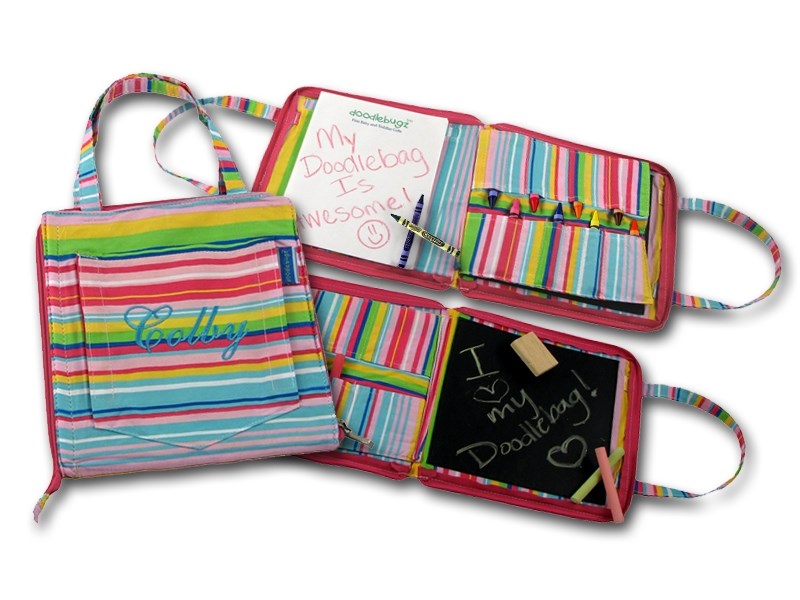 I love these Doodlebags that are on sale at Jane.com right now! This is a personalized monogrammed bag that is full of Crayola products and is on sale for $20.99 each!
That price includes the personalized monogramming which I love! Shipping is $5.99 for the first one and $3.99 for any additional ones that you purchase.
These Doodlebags would be great for road trips, overnight visits, church and more! Head over here to grab this great deal and here are a few more details:
Perfect to keep kids busy while in the car or on-the-go.  This Doodlebugz Crayola Doodlebag art kit comes complete with 8 Crayola crayons, a pad of paper, 12 pieces of colored Crayola chalk, a mini eraser and a fabric chalkboard sewn into the bag.  It zips up easily to neatly store everything when going from place to place.  It is everything the traveling artist needs to stay busy!  Front pocket (which is perfect for stickers)can be personalized with a name to make this an extra special gift!  Get yours for summer travel and make your road trips fly by!
Disclosure: This post contains affiliate links that help support our site with no additional cost to you. See our complete disclosure policy here.