Looking to add a little extra money to your bank account? On behalf of Tristar's MONEY MONSTER we're offering up some money saving tips to save an extra $20 per week. We're also giving away a $200 Visa gift card to give your savings a kickstart! (If you're local to Minnesota, you can also enter our giveaway HERE for a pair of passes to the advance screening on 5/11.) George Clooney and Julia Roberts star in the real-time, high stakes thriller, Money Monster, in theaters May 13th.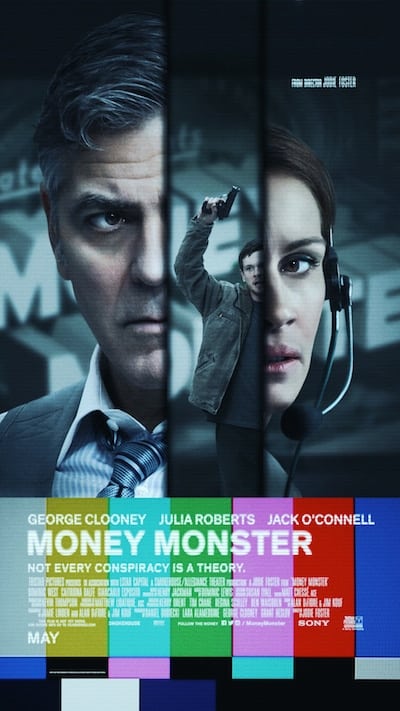 We all know that saving is important for our financial future. Did you know that saving only $20 per week over the course of 20 years at an interest rate of 6% would result in a total accumulation of over $35,000? If you find it tricky to have that extra cash available to put in the bank rather than toward bills, here are a few tips to help you save $20 per week.

5 Easy Tips to Save $20 Per Week

Make Your Own Pizza Night
If you love to have Friday or Saturday night pizza nights, the cost of delivery can easily be over $20. Plan ahead to make your own pizza at home and pocket that difference instead. Making pizzas together as a family can also be fun with everyone choosing their own toppings. You can buy premade dough or crusts at the grocery store our use our super-inexpensive recipes for homemade pizza dough and homemade pizza sauce.
Cut the Cable
While it can be a tough decision to take the plunge and cut the cable, it can easily save MORE than $20 per week. With so many other ways to get TV from Netflix, to Amazon, to Apple TV (just to name a few), you won't have any shortage of things to watch!
Sell Your Stuff
Tired of all the clutter in your house? Make extra room AND some extra money by selling those things you don't use any more. By selling just one or two items a week on eBay, Craigslist or with apps like LetGo and OfferUp.
Use the Library
Libraries are an awesome free resource that most of us don't use as nearly as much as we could. Of course you can save money by borrowing books instead of buying them (most libraries even have the option of loaning Kindle books), but they also have movies, music and more.
Save More at the Store
We all know we can save money by clipping coupons, but in modern times you can save just as much with apps on your smartphone! Using apps like Ibotta, Checkout51 and Target Cartwheel can add up to lots of savings.
Eat BEFORE The Movie
It's hard to replace the experience of seeing movies on the big screen, but you can make a night at the movies much less expensive by eating before you go. The cost of concessions is almost always more than the price of the ticket itself? If you do decide to eat at the theater, choose snacks you can share!
Enter our reader giveaway HERE!