Sometimes old school is just better. For a lot of products we use every day, the changes over time have made them better. But that's not always the case. As an example we have the Micro Touch ONE razor. It's a classic single blade razor – just like the kind barbers STILL use. If it ain't broke, why fix it?
My husband, Mario, recently received a Micro Touch ONE razor to put to the test and this is what he had to say:
"I received the Micro Touch ONE safety razor and I am super surprised at how much I enjoy using it.  I'm used to using the typical triple blade razor that I just hide in a cabinet once I'm finished.  The Micro Touch ONE has a classic styling and rests on an included stand that polishes off the look.  That blade is now on display in my bathroom (wife approved).  As expected with a single blade razor it is extremely sharp so remember to respect the blade at least for the first couple of shaves.  After that, I was able to get the hang of it and fly through my shaves.   Once you don't get the desired shave effect, its probably time to change the blade.  Replacing the blade is easy! Just twist the knob at the bottom of the handle, the top will open and allow you to replace the blade."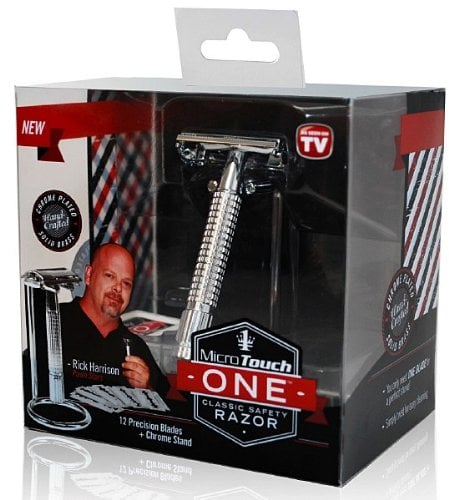 Coming from a rather picky guy, that is definitely a positive endorsement! If you don't believe him, check out the video from Rick Harrison from Pawn Stars on their product page. He has both a face AND a bald head to shave!
Another great benefit is that the Micro Touch One razor is inexpensive!  You can get everything you need to get started, including 12 replacement blades and 12 bonus blades, along with a carrying case for only $19.99 plus shipping.  Shipping is $7.99 + $4.99 for the bonus blades.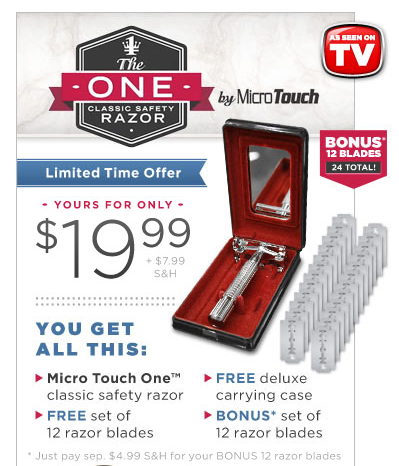 Reader Giveaway:  One lucky Thrifty Jinxy reader will win their own Micro Touch One razor.  To enter, just complete the entry form below by 11:59pm ET on 3/20/14.  Good luck!