By reading all my recipes here, you know that I like to cook a LOT and like to cook from scratch. But, with our busy hectic lives, there isn't always time to do all that cooking. So, when I opt for something easy to get on the table in a hurry, I like to choose something that has the same qualities as my own cooking. That's what appeals to me about Michael Angelo's meals and their "Less is Amore" philosophy.
While some things are good to have more of, others are not! Michael Angelo's employs this thinking in their ingredient philosophy – Real ingredients. No Fillers. No Preservatives. "Less is Amore." Their products are always free of additives found in other frozen and prepared foods. CEO Michael Angelo Renna likes to say "If you can't find it in Mom's kitchen, you won't find it in our food."
Michael and his mom, Sara, have been cooking Italian food the right way for decades. They bring this experience with traditional Italian cooking methods and flavors to a their line of single-serve meals and multi-serve meals all found in the freezer section. They are an easy solution to busy times giving you high quality meals in a hurry.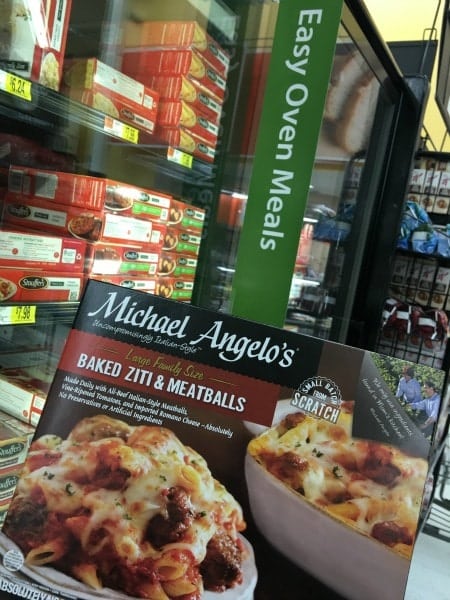 I headed to Walmart to check out the full line of Michael Angelo's Gourmet Foods products and chose the Large Family Size Baked Ziti and Meatballs. It's made with all-beef Italian-style meatballs, vine-ripened tomatoes, and imported Romano cheese.
Baked Ziti is one of my husband Mario's very favorite foods and he always LOVES when I make it for him. He was pretty excited when he heard that I had picked it up from Walmart and was planning to make it for dinner!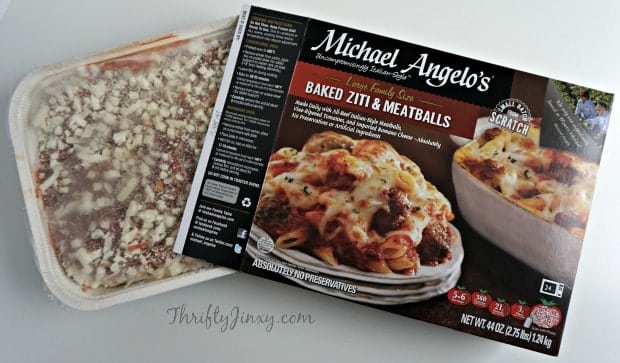 Preparing the meal was beyond easy. You can choose to cook it in either the microwave or the oven. I chose the oven because I like the way cheese browns in the oven. I simply put the frozen package on a cookie sheet for support and in less than an hour it was ready to take out of the oven and eat.
Mario was super happy with his Baked Ziti and Meatballs dinner and I was happy I didn't have to spend a lot of time in the kitchen preparing it. Of course he still likes mine best, but Michael Angelo's is a great solution for those busy days when I have other things to do besides slave away in the kitchen.
For more information, visit the Michael Angelo's website and check out their store finder to find their products in a store near you. For all the latest, be sure to follow them Michael Angelo's on Facebook, Twitter and Pinterest.
Enter our reader giveaway HERE!