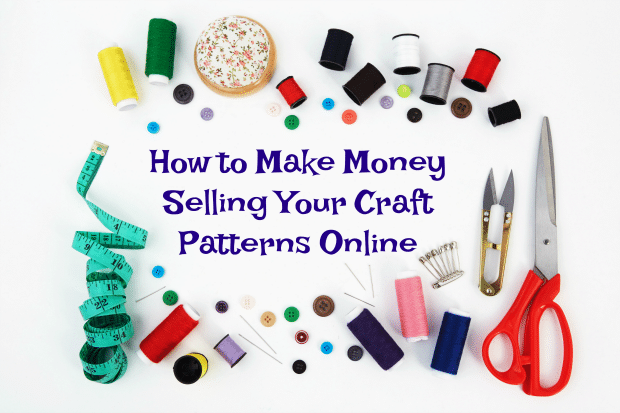 Do you create your own craft patterns? Would you like to know how you can share those patterns with others and earn some cash in the process? That's what I'm here to tell you about.
While millions of people love to do crafts from sewing to quilting to beadwork to embroidery to knitting to papercraft and MORE, there aren't nearly as many people who are able to create their own designs or own patterns. If you are talented enough to have that ability, then your skills are in demand!
The only hurdle is to determine how you can sell your own craft patterns and where. There is an easy answer!
In addition to their awesome online courses and craft supplies, Craftsy also has an independent online pattern store that lets anyone upload and sell downloadable e-patterns with NO FEE!
How do you add a pattern to Craftsy and start your pattern store? It's easy!
To create your very own Pattern Store, go the category page under which your pattern falls, like Quilting, Knitting or Sewing, and then click on Patterns. The link to help you get started selling your patterns will be in the blue box at the top of the page. Then follow these easy steps:
1. Make sure you have a Paypal account. All pattern transactions happen through Paypal, and Craftsy requires that you have a Student, Premier, or Business account in order to sell patterns.
2. Put your pattern in .pdf format. You can't upload any patterns to the online pattern store unless they're a .pdf file format, so if they're currently saved as a Word doc, .jpg, or other file format, you must convert it to a .pdf before you upload it to Craftsy.
3. Include a photo. All patterns must have at least one photo to accompany them, but you can add up to five photos. Colorful, interesting photos tend to work the best for catching our members' eyes!
4. Fill out the pattern description. We will ask you some basic questions around your pattern making it easier for Craftsy folk to find your pattern and know what your pattern is for. Make sure you have info about your pattern handy for this step.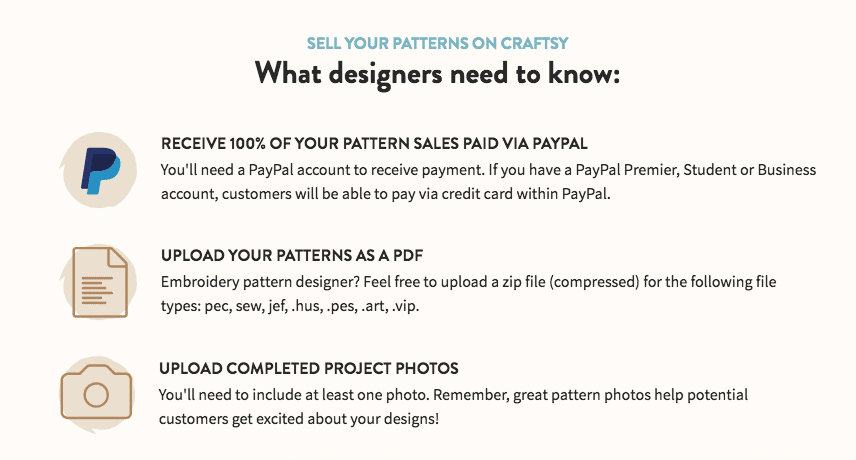 For more information on how to sell a pattern through Craftsy, or to get started, visit Craftsy today!