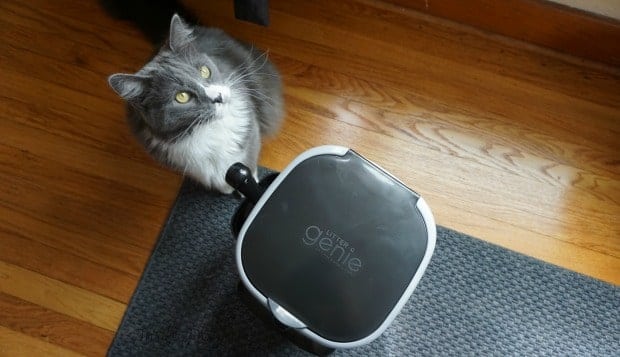 We all love our cats, right? Sure there are times my cats can drive me CRAZY, but even those crazy situations often make me end up laughing and the love and snuggles they provide far outweigh the "downside". Anyone who owns a cat knows exactly what I mean. They are most often a total joy, but there are a few things that can make you just a little bit nuts.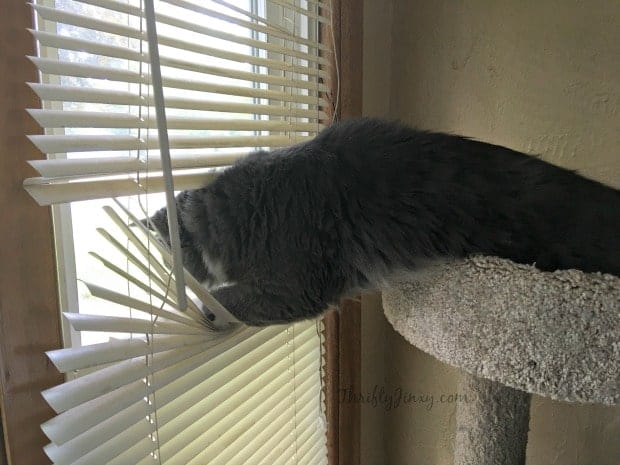 Can you relate with any of these?

No Sleeping In: I'm never able to sleep in because my three living alarm clocks always know when it's time for breakfast and feel it's their duty to wake me up to serve them. I have started to leave them a little extra dry food at night and that means they are a bit less anxious to wake me in the morning.

The Furry Forest: Multiple pets can lead to pet hair everywhere. I don't know if the pet hair in our house comes more from the cats or from our 75-pound German Shepherd. All I know is that I always have to double-check my clothing before going anywhere "important" and I have a whole drawer full of lint rollers. We now have a robot vacuum that runs every day and that helps the situation a lot!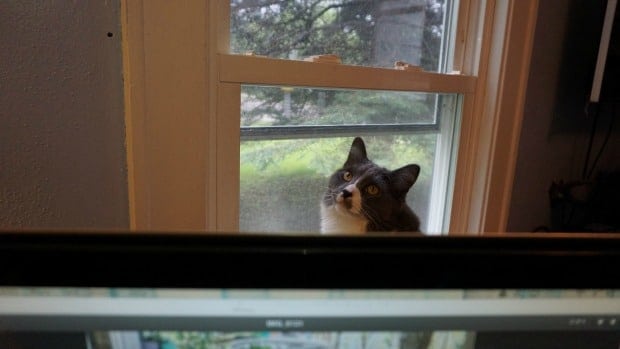 Constant Distraction: Cats have an uncanny way of getting right into whatever you're working on and making the whole process take a lot longer. I work at home and my cat Sammy is the one who always wants to be right on top of my desk, especially pacing in front of my monitors or lying on my keyboard. I finally found a "nice" way to get him off my desk and out of my way. I bought an automatic laser beam toy that casts random laser lights around the room for 20 minutes at a time. The minute I turn that on he jumps off my desk to chase it.
Litter Odor: The number one thing I hate about having cats is litter boxes. I have never met a person who likes to clean litter boxes or who likes the smell of what is taken out of the boxes. The worst part is having guests to your home, ESPECIALLY guests who don't have cats themselves, and worrying about that smell hitting them when they walk in the door. BUT, there is a way to minimize that impact. It's the Litter Genie® Cat Litter Disposal System, an easy way to lock away those odors and keep your home smelling fresh. I buy mine at Walmart!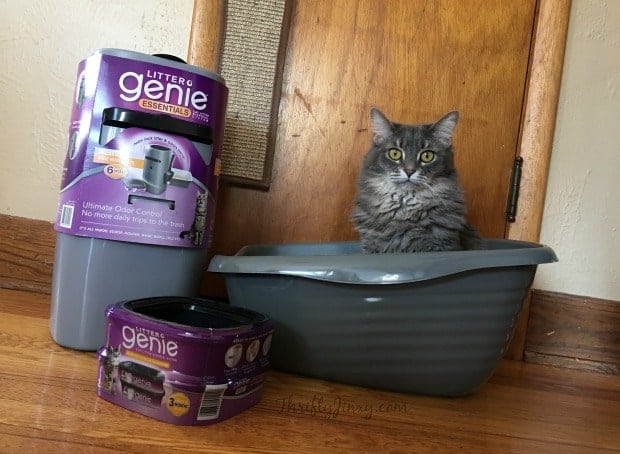 I headed to Walmart to pick up a Little Genie® and within 5 minutes of getting home it was set up and ready to use. It's just a matter of attaching the included scoop and holder, pulling a bit of the plastic film out of a Little Genie® refill, and placing it inside the container.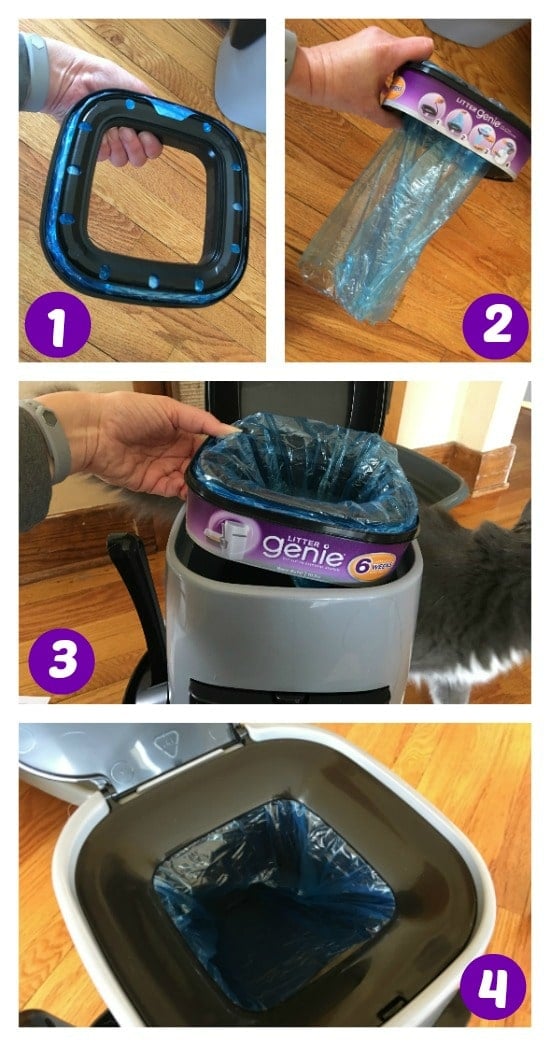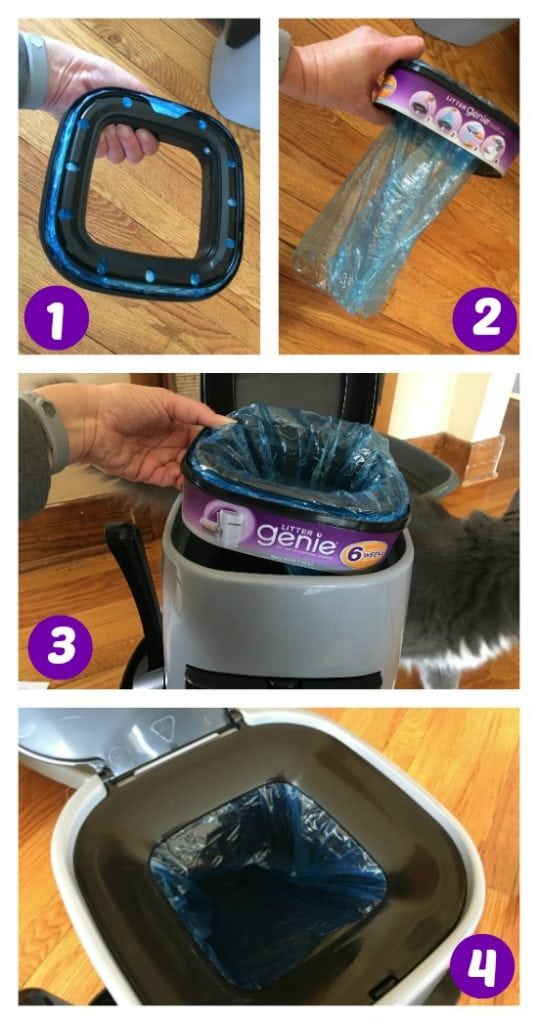 To use the Litter Genie®, you just scoop up the clumps from your litter box, open the lid on the Litter Genie® and drop in the clumps. Then pull the handle to let the litter clumps drop in and seal away the waste and odors. It's air-tight, which means that even when you open the lid again, the smells are kept inside.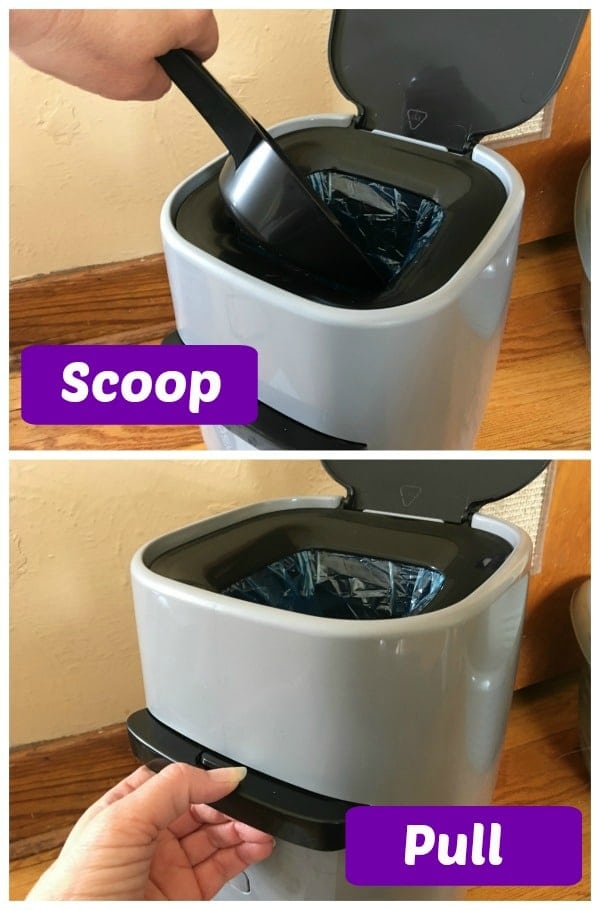 Litter Genie® has a small, sleek, compact design, which makes it perfect for small spaces and can seal away waste for one cat for up to 14 days. Rather than having to head to the garbage can outside every time you scoop litter, you can just do it each time you need to empty the Litter Genie®. That's such a big time saver!! I also appreciate not having to make an extra trip outside on cold, super hot or rainy days.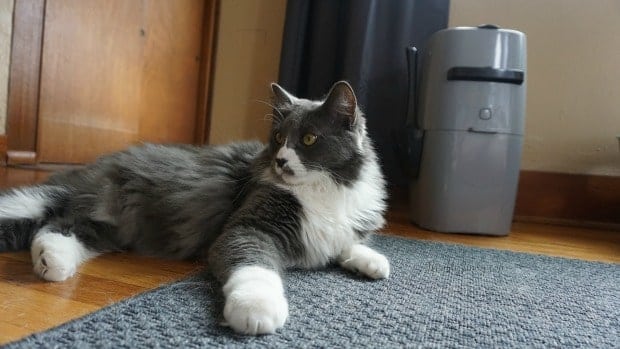 The Litter Genie® itself is small and compact, taking up very little room, which is especially good for small homes like ours. With a small space litter odors can take over even more easily, so it's great to have an option to both prevent those odors and not use up floor space! Find out more about Litter Genie® at https://www.littergenie.com/