Sometimes, technology blows me away and this happens to be one of those times. What has me so amazed, you ask? It's the LG InstaView Door-in-Door Refrigerator, available right now at your local Best Buy.
You never have to worry again about letting cold air out of the fridge when you're on a mission to find a late-night snack… or telling your kids to CLOSE the door, for that matter. Just knock two times on the tinted glass panel and the interior of the "easy-access compartment" lights up. How totally cool is that?  It's never been easier to raid the refrigerator!
There's actually more than one model available, choose from as much as 30 cubic feet of usable space. That being said, the size of your kitchen shouldn't be an issue. Energy efficiency is top-notch, which helps cut down on your utility bill… so you can buy more food.
The LG InstaView Door-in-Door Refrigerator also features a nifty ColdSaver Panel. This panel helps to extend the shelf life of your fresh produce and such, by reducing cold air loss.
If you have little ones, you'll appreciate the fact that the exterior of the fridge is fingerprint proof. Not only that, if you happen to love the sophisticated look of black stainless steel this baby is for you. Traditional stainless steel and is available as well. The choice is totally up to you.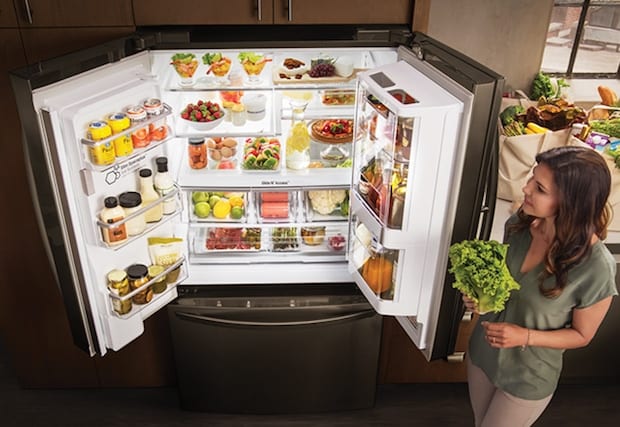 I don't know about you. But, if this refrigerator was in my house, I think I'd be inclined to do a lot more cooking. There's just something about high-quality appliances that makes me want to spend more time in the kitchen.
Please take a couple minutes to visit Best Buy, to find out more about the LG InstaView Door-in-Door Refrigerator.  You can even order it online, in the event you don't feel like shopping in the store.