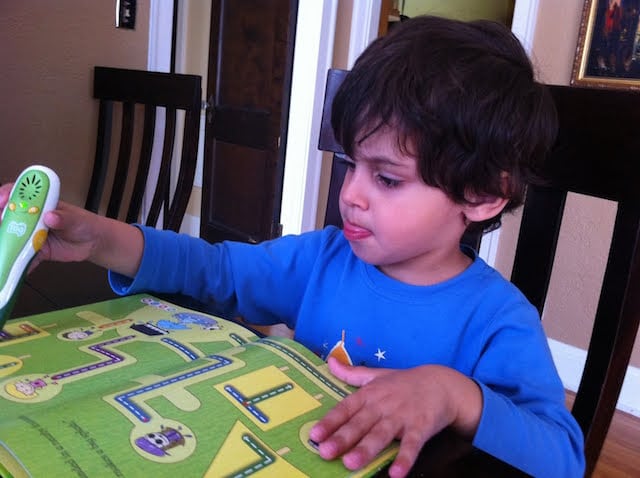 Even though he has known all of his letters and been able to identify them since he was a tiny tot, my nephew has been REFUSING to try to write his letters.  We have tried with blank paper and with workbooks, but basically he doesn't like it and doesn't want to do it.  So, when LeapFrog sent us the Tag™ Book: Learn to Write and Draw, I thought "A-ha! If we can turn writing letters into an electronic game, he just might do it!"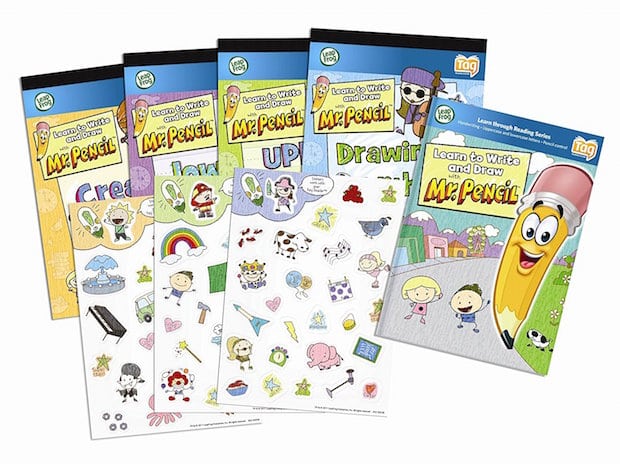 LeapFrog Tag: Learn To Write & Draw uses methods based on current research on effective handwriting instruction.  It reinforces the learning with fun audio feedback with the Tag Reader.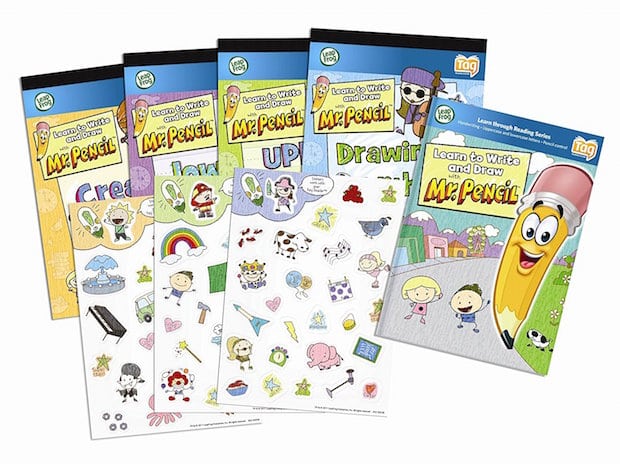 As your kids follow the story of Dot and Dash, who are trying to find a band to play at the Doodleburg Fun Fair, they receive step-by-step guidance in writing letters.  The 8-piece set includes 1 hardcover activity book, 4 workbooks and 3 sheets of interactive stickers to help reinforce writing skills. (MSRP $19.99, ages 4-7)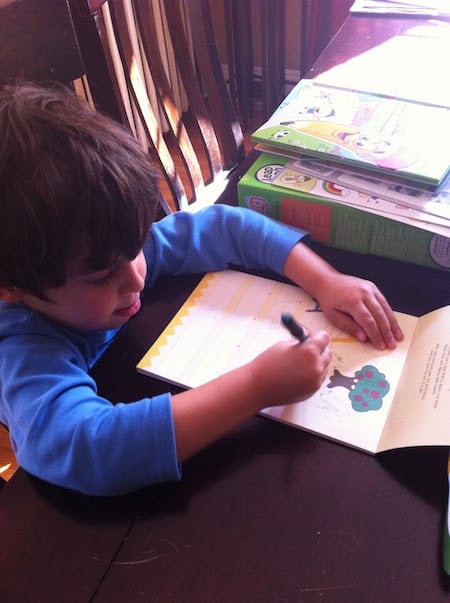 We started to play with the hardcover activity book by having the story "read" to us.  As we got a bit further into the story, it was time to try writing some letters.  Guess who was totally into writing?!?!  Yes, I was right, he actually wanted to try to make the letters.  Since he is only 3, the Tag pen is still a little large for his small hands, but he made a great effort.  Plus, there are regular "paper" workbooks included in the set that offer more letter-writing practice.  He actually was happy to work on the workbook with a pencil and was able to transfer what he learned electronically onto regular paper.  By the way, the story in the books is really cute.  He especially loves the little dog that speaks very proper English.  He has been copying the dog lately and saying "How extraoooordinary!"  (So cute!!)
(NOTE:  I know he is NOT sitting in proper sitting position to practice writing…it was a spur of the moment thing when we took that picture!)
LeapFrog is having a special Halloween giveaway!  Enter for a chance to win a $500 LeapFrog Halloween Basket! Offer valid 10.24 through 10.28!
**
If you like what you read, or have something to add, PLEASE leave a comment at Thrifty Jinxy! Thanks!**