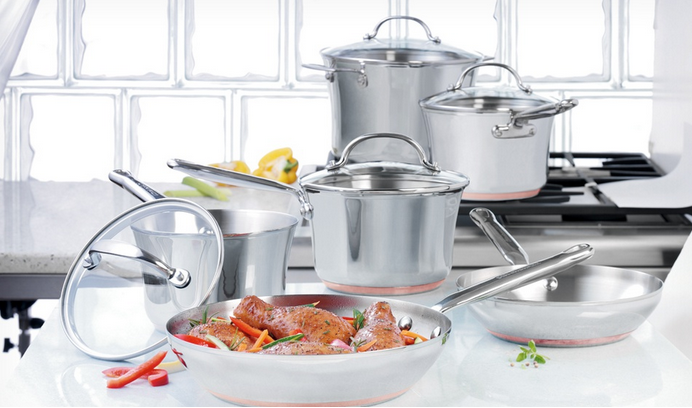 I think I might be a little bit obsessed with cookware. Every time I see a great sale I MUST stop and look, even though I currently have more pots and pans than will fit in my kitchen. So, since I don't have room for this deal, I'm hoping one of you can use it because these pans look amazing!! Right now you can get this KitchenAid Gourmet 10-Piece Stainless Steel Copper-Bottom Cookware Set ($440 list price) for only $169.99 with FREE shipping and returns.  The set contains all of this:
1.25-quart saucepan with lid
2.5-quart saucepan with lid
3.5-quart saucepan with lid
8-quart stockpot with lid
8-inch open skillet
10-inch open skillet
All pieces features a double full cap base ensuring even heating and fewer hot spots.  Tempered glass lids offer a full view of cooking food while trapping in heat, moisture, and nutrients. Polished 18/10 stainless steel handles provide sturdy grip.  ORDER HERE
Disclosure:  This post may contain affiliate links.  See our complete disclosure policy here.