Use these simple tips to learn how to get ketchup out of a white shirt. No more need to fear stains!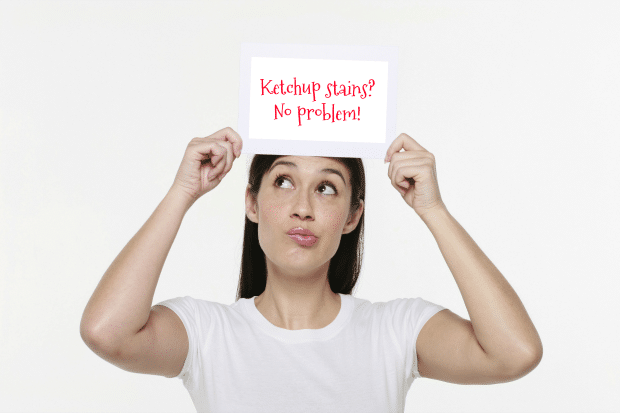 I'm back to give your more information about Wisk's upgraded formula featuring Stain Spectrum™ Technology. In our last "experiment" I tried Wisk on fighting a protein stain. This time, up to bat is the carbohydrate stain. Common carbohydrate stains include chocolate milk, syrup, BBQ sauce and the stain I tackled – ketchup.
How to Get Ketchup Out of a White Shirt:
Ketchup can be a tricky stain to remove and, due to its color, if it stains there is no disguising it. To test out the power of the new Wisk formula, we first got to play around and stain the shirt with ketchup: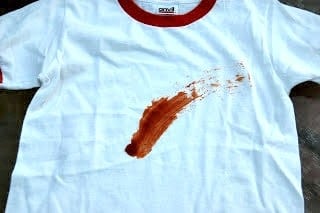 Quite a mess, right? To test out the Wisk, I poured a bit of detergent over the stained area and rubbed it for about 30 seconds. Then I let it set for about five minutes to allow the Stain Spectrum™ Technology to penetrate the fibers. Next I rinsed the shirt under warm water and once again….VOILA! The stain was gone: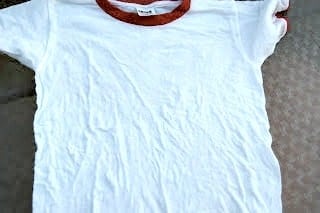 About Wisk:
New Wisk laundry detergent is reinventing the way you'll look at stains with a powerful new formula and a red-hot bottle.
As the first liquid laundry detergent to market in 1956, Wisk® has been cleaning America's laundry for the past 50 years. Now, they've upgraded their formula, but not their price, to tackle stains.
Wisk Deep Clean Liquid Laundry Detergent

Wisk is bringing science to stain fighting with an upgraded formula featuring Stain Spectrum™ Technology. Wisk's enzymes and cleaning agents target the full range of stains on a molecular level for a powerful clean.
Wisk is introducing a powerful new stain fighting formula and a new way to talk about stains in a reinvention that is likely to be as iconic as the brand's legendary "
ring around the collar
" campaign.