Your purse can pick up SO MANY GERMS when you set it on the floor. See how to keep germs off your purse using a purse hanger.
Have you seen any of the news reports lately that show how filthy and full of germs our purses, handbags and diaper bags are? I've seen more than one of these features in the last few months.
Some people just aren't careful and do things like set their purse or diaper bag on the floor in a bathroom stall, but even the most careful of us sometimes need to set a purse on the floor at a restaurant or in other situations.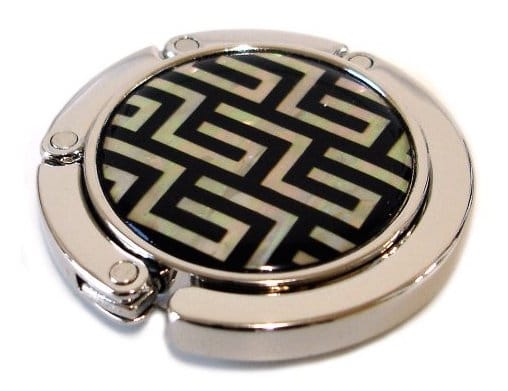 In the documentaries, scientific testing shows that your purse can be more filthy than a public restroom toilet seat! So, I had that on my mind when I saw this product that helps to eliminate the need to put your purse on the floor!
You can keep germs off your purse with this Purse Hanger. It sits on the edge of the table and the design (I guess with the help of physics) causes it to stay suspended! Since there are many designs that are only a few dollars each, I'm going to order them for all the ladies on my Christmas list – it's something useful! See someoptions HERE.