Summer is in full swing and one of my favorite summer activities is sitting in the shade of our backyard with a good book! If you're looking to fill up your July reading list, feel free to choose from MY July list of 5 books I'm looking forward to reading!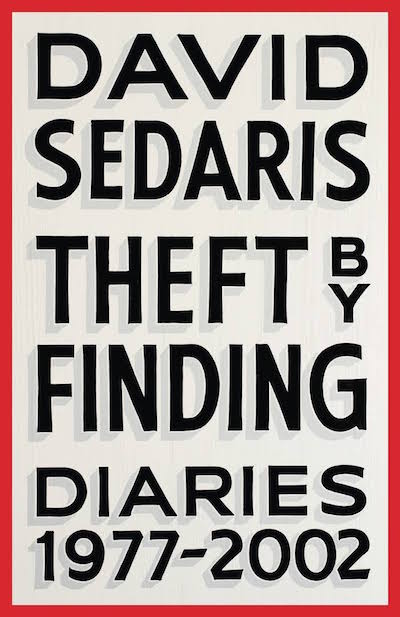 I have been a David Sedaris fan forever. He makes me laugh and he makes me think. About the book:
For forty years, David Sedaris has kept a diary in which he records everything that captures his attention-overheard comments, salacious gossip, soap opera plot twists, secrets confided by total strangers. These observations are the source code for his finest work, and through them he has honed his cunning, surprising sentences.

Now, Sedaris shares his private writings with the world. Theft by Finding, the first of two volumes, is the story of how a drug-abusing dropout with a weakness for the International House of Pancakes and a chronic inability to hold down a real job became one of the funniest people on the planet.

Written with a sharp eye and ear for the bizarre, the beautiful, and the uncomfortable, and with a generosity of spirit that even a misanthropic sense of humor can't fully disguise, Theft By Finding proves that Sedaris is one of our great modern observers. It's a potent reminder that when you're as perceptive and curious as Sedaris, there's no such thing as a boring day.
While I am generally a book reader and not an audiobook listener, David Sedaris is an exception. I just love to listen to him read his own writings and I sit and giggle the whole time. So, I may have to get the audiobook version for my next long car trip.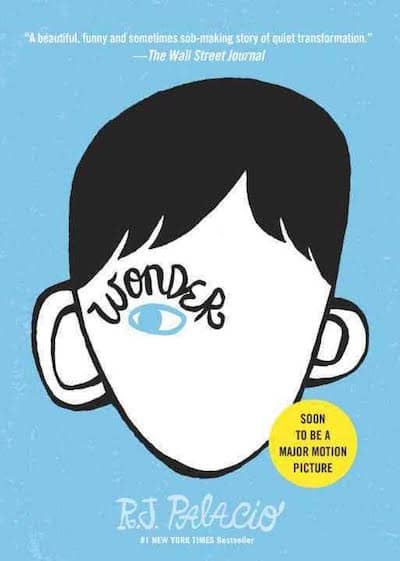 Wonder by R. J. Palacio
Wonder was sent to me as a gift from Lionsgate Studios since they are making a movie from the book, starring Julia Roberts, Owen Wilson and Jacolb Tremblay, which will be in theaters this November. This #1 New York Times bestseller inspired the Choose Kind movement. I feel I'm a bit slow on not having read this book yet, but I'm cutting myself some slack since I don't usually read books for young readers. After seeing all the rave reviews from both critics and readers (and because I'm looking forward to the movie) Wonder is now a "must read". About the book:
 I won't describe what I look like. Whatever you're thinking, it's probably worse.

August Pullman was born with a facial difference that, up until now, has prevented him from going to a mainstream school. Starting 5th grade at Beecher Prep, he wants nothing more than to be treated as an ordinary kid—but his new classmates can't get past Auggie's extraordinary face. WONDER, now a #1 New York Times bestseller and included on the Texas Bluebonnet Award master list, begins from Auggie's point of view, but soon switches to include his classmates, his sister, her boyfriend, and others. These perspectives converge in a portrait of one community's struggle with empathy, compassion, and acceptance.

"Wonder is the best kids' book of the year," said Emily Bazelon, senior editor at Slate.com and author of Sticks and Stones: Defeating the Culture of Bullying and Rediscovering the Power of Character and Empathy. In a world where bullying among young people is an epidemic, this is a refreshing new narrative full of heart and hope. R.J. Palacio has called her debut novel "a meditation on kindness" —indeed, every reader will come away with a greater appreciation for the simple courage of friendship. Auggie is a hero to root for, a diamond in the rough who proves that you can't blend in when you were born to stand out.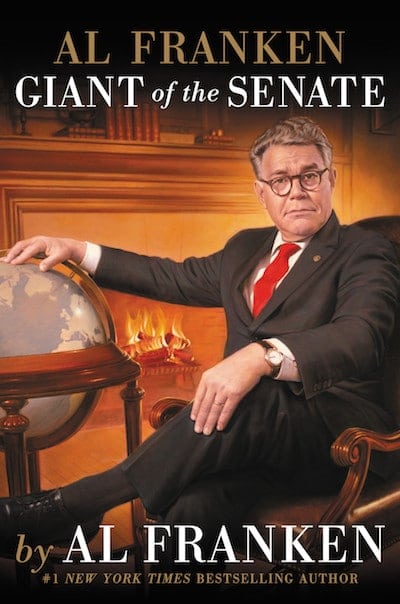 I started this book last night and read WAY past my bedtime. I may be a bit extra-interested since I'm from Minnesota and Al Franken is my US Senator, but even if that weren't the case it's super interesting and super funny. (You can ask my husband who was woken up by my laughing!) About the book:
This is a book about an unlikely campaign that had an even more improbable ending: the closest outcome in history and an unprecedented eight-month recount saga, which is pretty funny in retrospect.

It's a book about what happens when the nation's foremost progressive satirist gets a chance to serve in the United States Senate and, defying the low expectations of the pundit class, actually turns out to be good at it.

It's a book about our deeply polarized, frequently depressing, occasionally inspiring political culture, written from inside the belly of the beast.

In this candid personal memoir, the honorable gentleman from Minnesota takes his army of loyal fans along with him from Saturday Night Live to the campaign trail, inside the halls of Congress, and behind the scenes of some of the most dramatic and/or hilarious moments of his new career in politics.

Has Al Franken become a true Giant of the Senate? Franken asks readers to decide for themselves.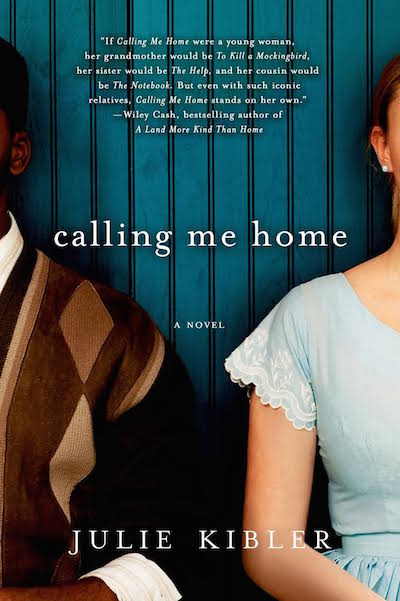 I actually got a bit of a head start on July's reading and already finished Calling Me Home. I loved it! While Al Franken's book had me laughing out loud while reading in bed, this book had me sobbing out loud. My husband said, "I'm sorry your book isn't good". I said, "What are you talking about? It's GREAT!" He just doesn't understand the concept of loving a book that makes you cry. Even if you don't like to cry over books, please don't let that stop you from reading Calling Me Home. You will be missing out. About the book:
In Calling Me Home by Julie Kibler, eighty-nine-year-old Isabelle McAllister has a favor to ask her hairdresser Dorrie Curtis. It's a big one. Isabelle wants Dorrie, a black single mom in her thirties, to drop everything to drive Isabelle from her home in Arlington, Texas, to a funeral in Cincinnati. With no clear explanation why. Tomorrow.

Curious whether she can unlock the secrets of Isabelle's guarded past, she agrees, not knowing it will be a journey that changes both their lives.

Over the years, Dorrie and Isabelle have developed more than just a business relationship. They are friends. But Dorrie, fretting over the new man in her life and her teenage son's irresponsible choices, still wonders why Isabelle chose her.

Isabelle confesses that, as a willful teen in 1930s Kentucky, she fell deeply in love with Robert Prewitt, a would-be doctor and the black son of her family's housekeeper―in a town where blacks weren't allowed after dark. The tale of their forbidden relationship and its tragic consequences makes it clear Dorrie and Isabelle are headed for a gathering of the utmost importance and that the history of Isabelle's first and greatest love just might help Dorrie find her own way.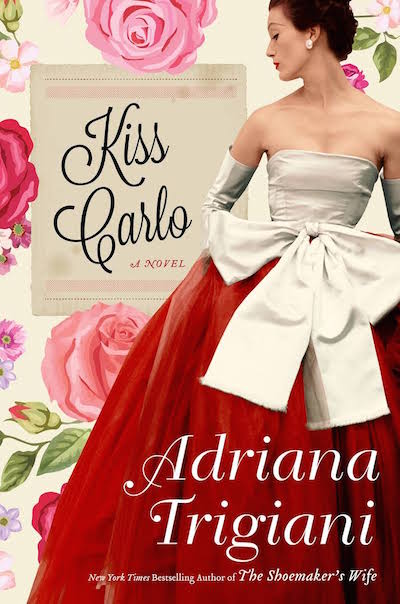 I have read all of Adriana Trigiani's novels, as have my sister and mother. I was shopping at Barnes & Noble with them last week when my sister spotted Kiss Carlo and exclaimed "A new Adriana Trigiani book!" She of course bought it (I like that she often buys the books first and I can then borrow them from her), but I'm also receiving a copy courtesy of the publisher, Harper Collins. About the book:
From Adriana Trigiani, the beloved New York Times-bestselling author of The Shoemaker's Wife, comes an exhilarating epic novel of love, loyalty, and creativity—the story of an Italian-American family on the cusp of change.

It's 1949 and South Philadelphia bursts with opportunity during the post-war boom. The Palazzini Cab Company & Western Union Telegraph Office, owned and operated by Dominic Palazzini and his three sons, is flourishing: business is good, they're surrounded by sympathetic wives and daughters-in-law, with grandchildren on the way. But a decades-long feud that split Dominic and his brother Mike and their once-close families sets the stage for a re-match.

Amidst the hoopla, the arrival of an urgent telegram from Italy upends the life of Nicky Castone (Dominic and his wife's orphaned nephew) who lives and works with his Uncle Dom and his family. Nicky decides, at 30, that he wants more—more than just a job driving Car #4 and more than his longtime fiancée Peachy DePino, a bookkeeper, can offer. When he admits to his fiancée that he's been secretly moonlighting at the local Shakespeare theater company, Nicky finds himself drawn to the stage, its colorful players and to the determined Calla Borelli, who inherited the enterprise from her father, Nicky must choose between the conventional life his family expects of him or chart a new course and risk losing everything he cherishes.

From the dreamy mountaintop village of Roseto Valfortore in Italy, to the vibrant streets of South Philly, to the close-knit enclave of Roseto, Pennsylvania, to New York City during the birth of the golden age of television, Kiss Carlo is a powerful, inter-generational story that celebrates the ties that bind, while staying true to oneself when all hope seems lost.

Told against the backdrop of some of Shakespeare's greatest comedies, this novel brims with romance as long buried secrets are revealed, mistaken identities are unmasked, scores are settled, broken hearts are mended and true love reigns. Trigiani's consummate storytelling skill and her trademark wit, along with a dazzling cast of characters will enthrall readers. Once again, the author has returned to her own family garden to create an unforgettable feast. Kiss Carlo is a jubilee, resplendent with hope, love, and the abiding power of la famiglia.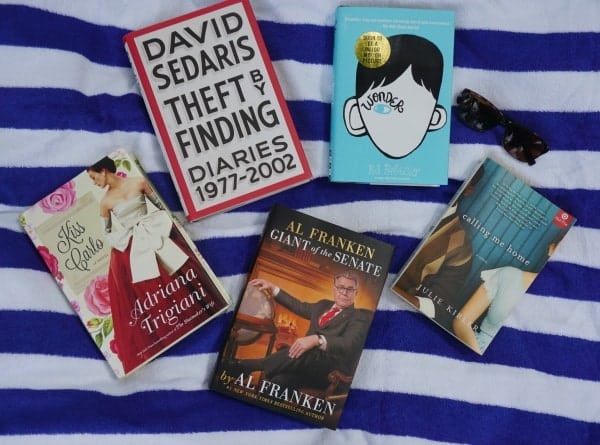 Reader Giveaway: One lucky Thrifty Jinxy reader will win Kiss Carlo: A Novel, by Adriana Trigiani. To enter, just complete the entry form below by 11:59pm ET on 8/1/17. Good luck!