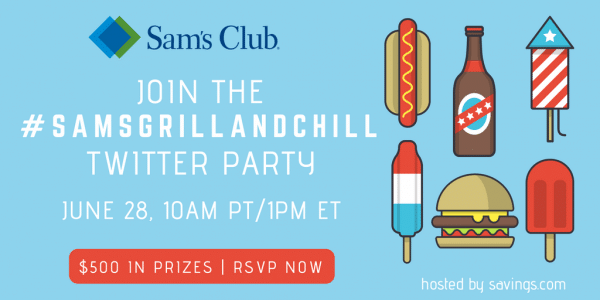 Summer is finally in full swing! We'll be discussing summer grilling and all of the great savings available on summer grilling essentials for Sam's Club members at our #SamsGrillAndChill Twitter party Thursday!
Plus, we'll be giving away $500 in Sam's Club gift cards which you definitely don't want to miss. Be sure to RSVP to be eligible to win!
When: Thursday, June 28th at 10 am PT / 1 pm ET
Where: On Twitter with hashtag #SamsGrillAndChill
Who: YOU, me @ThriftyJinxy, co-hosts @savings, @Freebies4mom, @katbalogger, @MomsWhoSave, @DonnaChaffins
Prizes: (6) $25 Sam's Club gift cards, (2) $50 Sam's Club gift cards, (1) $100 Sam's Club gift card, and (1) $150 Sam's Club gift card grand prize
RSVP: Enter your Twitter handle on this page to be eligible for the giveaway!
Let us know if you have any questions. See you at the party!
#SamsGrillAndChill Deals
Check out this list of deals for a glimpse at just some of the products available to Sam's Club members: