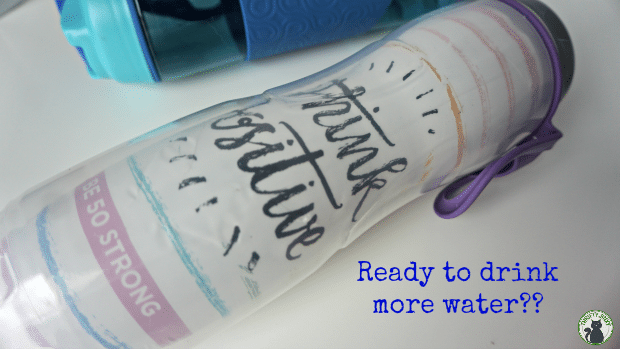 Why is it that some of the simplest things that we KNOW help us stay healthy are still sometimes difficult to accomplish? Take drinking water, for example. As humans, we are designed to drink water and we really NEED it to stay healthy. A person can live without food for a month, but can only live for a week without water! Plus, there are so many other great health benefits from drinking water. Check it out….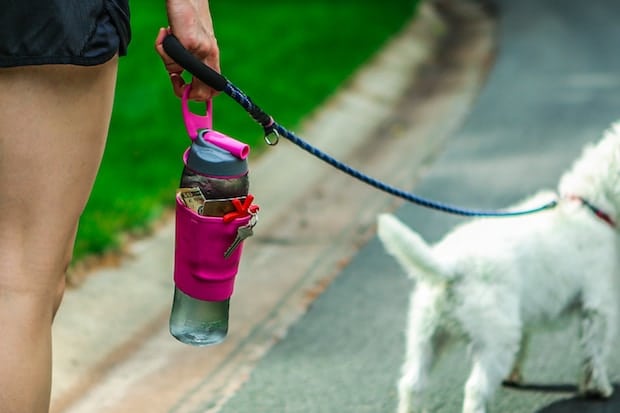 Benefits of Drinking Water
Look younger. In addition to feeling great, staying hydrated can help you look great by reducing wrinkles and improving the look of your skin.
Prevent overeating before the first bite. Drinking a glass of water before meals is an easy way to curb your appetite.
Burn more calories. Water can speed up your metabolism and help burn up those unwanted calories while also cleansing the body of toxins.
Ensure a better workout. Water helps build muscle tone and prevent against cramping, allowing you to work out harder and longer.
Just one of those reasons is enough to ensure we get enough water each day, which is a recommended 64 oz. Sometimes we might think that we just aren't thirsty, but by the time you actually ARE thirsty, it means you're dehydrated. I know that when I don't have enough water I feel more sluggish and don'g have a lot of energy – I'm thinking that is part of the dehydration effect!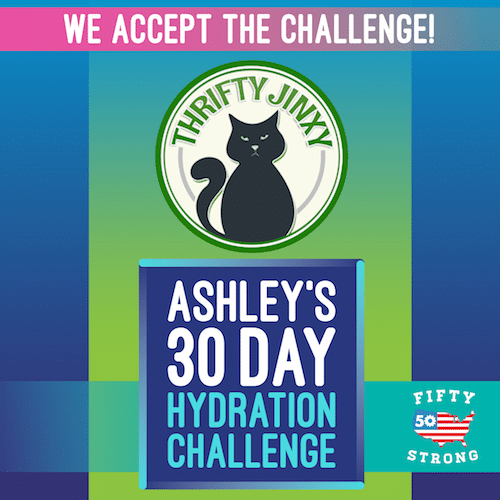 Ashley's 30 Day Hydration Challenge

So, now that we know we need water, what can we do to help ensure we get those 64 oz. each day? For encouragement, we can join Ashley's 30 Day Hydration Challenge! Ashley Thompson runs the water bottle company 50 Strong, but, believe it or not, she really dislikes drinking water. (Isn't that crazy?!?) During the month of April 2017, join Ashley as she takes on a personal challenge to get her 64oz. of water in daily, and start your own challenge. To get inspired, check 50 Strong's Facebook page each week to enter for a chance to win one of their Simply Better Bottles.
Are you ready to jump on board and join the challenge? If you need a bit of a boost to get started and figure out how you're going to reach the goal of 64 oz. every day, try a few of these tips for inspiration.

Tips to Drink More Water
Add drinking water to your morning ritual. Start with a glass of ice cold water when you wake up to jump start your day.
Buy a water bottle you love (any of the 50 Strong Simply Better Bottles!) You're more likely to carry it and more importantly use it!
Keep water within reach when you're working. It will help encourage you to sip all day and reach your daily goal.
Jazz up your water with fruit or a flavor packet. Variety is the spice of life. Check out our DIY lime infused water here for inspiration.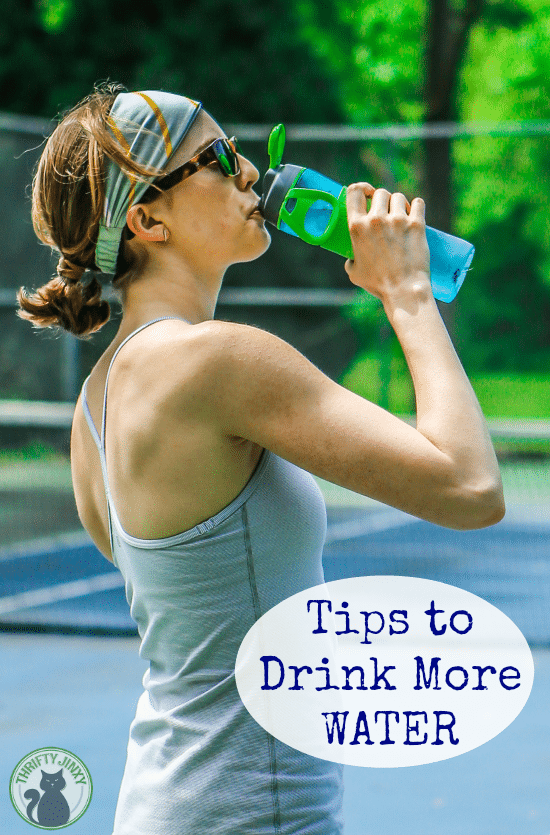 I positively think the power of a good water bottle can't be underestimated! You'll want to check out the whole line available of 50 Strong Simply Better Bottles. I like a variety of bottles for myself – some perfect for keeping on my desk, some perfect for walking and others just right for the car. They have bottles with straws, bottles that fit ice, even bottles with a built-in mixer for protein shakes!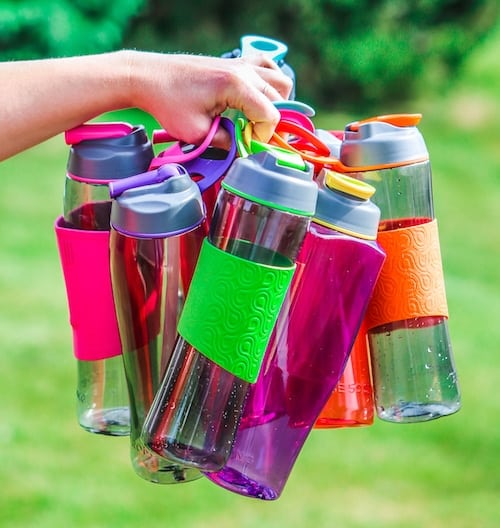 All 50 Strong bottles feature bright colors and innovative modern patterns and designs, which make them extra fun. Some of their most popular bottles are the Mix it Up, for smoother, better blends; the Big 36/Chug 36, which get you more than halfway to your daily 64 oz.; the Gym Bottle, with a secret pocket to hold your cards, cash and keys; and the Insulated Bottle, which not only keeps drinks cold, but also comes in fresh designs, including new inspirational messages. I particularly like this one for bike rides and it even fits in my bike's bottle holder!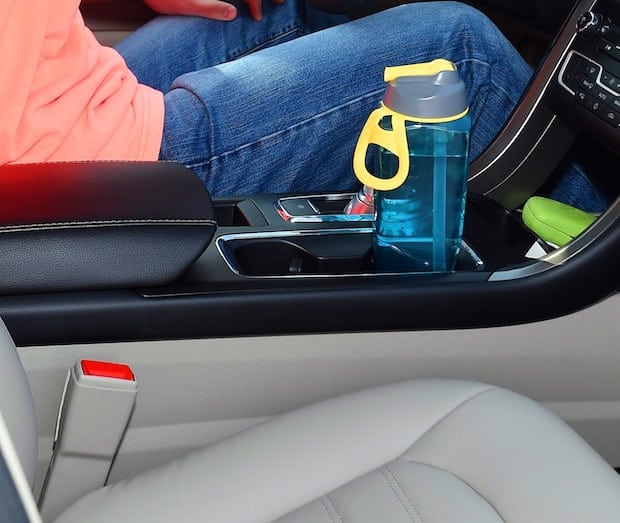 All 50 Strong Simply Better Bottles have mix 'n' match parts, including interchangeable tops (so you'll always find the perfect match!) and soft, flexible lanyards for easy carrying (which means you don't have to tie up your hand when you're on the go!). They are made of BPA-free, durable Tritan plastic, are top-rack dishwasher safe, designed to fit in most cup holders and kitchen cabinets, and are proudly 100% designed and Made in the U.S.A. Plus, 10% of profits are donated to the 50 Strong Foundation. And the bottles are so reasonably priced! Each is under $13.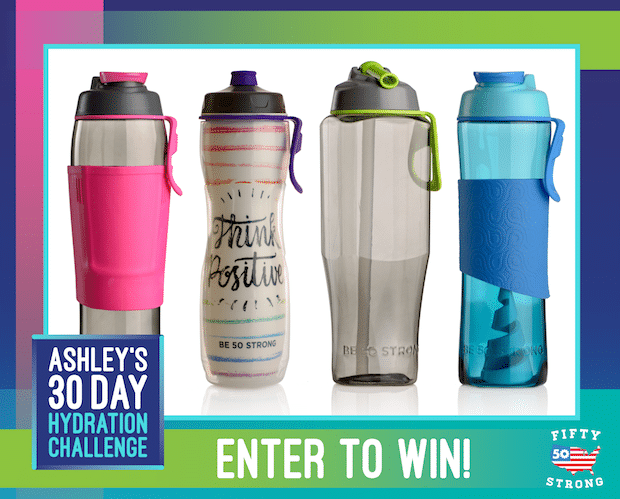 Reader Giveaway

One lucky Thrifty Jinxy reader will win a 50 Strong Simply Better Bottles prize package including a Green Big 36, Blue Mix It Up, Pink Gym Bottle with Chug Cap and Think Positive Insulated Bottle! To enter, simply complete the entry form below by 11:59pm ET on 4/30/17. Good luck!
50 Strong Simply Better Bottles Giveaway