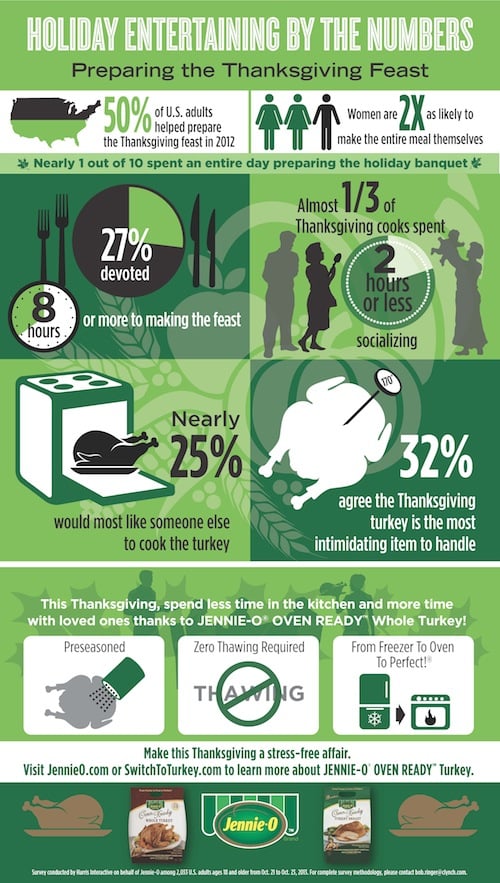 Even if you're a well-seasoned cook, Thanksgiving dinner preparation can be more than a little overwhelming. If this is your first attempt at Thanksgiving entertaining, turkey preparation can be the most daunting task of all. From thawing and cleaning to seasoning, getting the turkey ready for the oven can be a time-consuming and messy process. With a house full of invited guests and a whole menu full of other dishes to prepare, who has that kind of time?
A recent study,conducted by Harris Interactive, showed nearly 1/3 of Thanksgiving hosts spend 2 hours or fewer socializing with guests on the big day (is that even enough time to eat?). Furthermore, 27% devote 8 hours or more just to cooking. The info graphic above gives you a snapshot of America's time-stressed holiday preparation.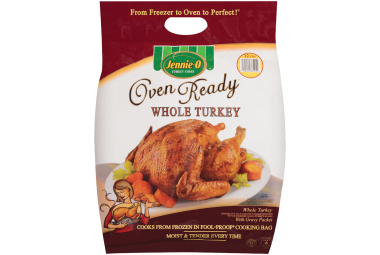 For busy home cooks assigned the task of preparing the Thanksgiving turkey, especially those who are newly married, first-time hosts, juggling work and home, hosting extended family, or have small children tugging at their apron strings, there is a delicious and easy alternative. JENNIE-O® OVEN READY™ Whole Turkey is a foolproof shortcut that takes turkey fromFreezer to Oven to Perfect!™
Step 1: Remove the outer wrapping.
Step 2: Place the frozen turkey in a pan in the oven.
Step 3: Roast, cut and serve.
This juicy, tender turkey never disappoints because Jennie-O has done everything for you. JENNIE-O® OVEN READY™ is the only turkey that goes directly from freezer to oven with no thawing, easy clean up and no worries. Jennie-O helps hosts to serve a flavorful Thanksgiving turkey without the stress or mess, giving time-strapped entertainers more time to give thanks this season.
Reader Giveaway: One lucky Thrifty Jinxy reader will win a coupon to purchase a FREE JENNIE-O® OVEN READY™ Whole Turkey. To enter, just complete the entry form below by 11:59pm ET on 11/26/13. Good luck!