Jelly Belly BeanBoozled Jelly Beans have weird and nasty flavors mixed with regular ones! See all these fun and tricky flavor pairings!
This is such a fun idea for April Fool's Day!
Jelly Belly BeanBoozled jelly beans. Weird and nasty flavors mixed with regular ones. Makes a great game! BeanBoozled jelly beans come in 20 flavors, 10 weird and wild flavors matched up with 10 look-alike tasty flavors. Is the black jelly bean Licorice, or is it Skunk Spray? Perhaps the blue bean is Toothpaste flavor, or maybe it's delicious Berry Blue. Think you can tell them apart? We dare you!
You might not know when you will be bamboozled by a weird flavor. A key on the back of each box gives clues to the surprises found inside, but the beans look so similar, every bite will be a surprising dare.
Jelly Belly BeanBoozled flavor pairings are:
Skunk Spray – Licorice
Rotten Egg – Buttered Popcorn
Ear Wax – Café Latte
Booger – Juicy Pear
Baby Wipes – Coconut
Pencil Shavings – Top Banana
Toothpaste – Berry Blue
Vomit – Peach
Moldy Cheese – Caramel Corn
Black Pepper – Plum
One 1.6 oz box. Boxes are randomly mixed, so each one may not have the same mix of flavors.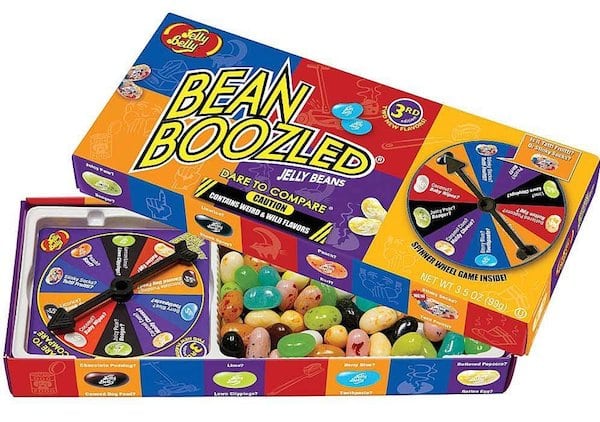 For more fun all year round, you can also get a Jelly Belly Bean Boozled Spinner Gift Box Game. It's a box of candy and game all in one! Just spin the wheel and see where it lands to decide what bean you eat. Will it taste great or will it be super gross?
The newest BeanBoozled 4th Edition includes 20 flavors of jelly beans: 10 weird and wild flavors that look identical to 10 classic and delicious flavors. Think you can tell the difference between the sweet Coconut and pungent Spoiled Milk*? What about delicious Strawberry Banana Smoothie and not-so-delicious Dead Fish*?
For more fun, check out the Jelly Belly Outlet Store! Get your Belly Flops Here!