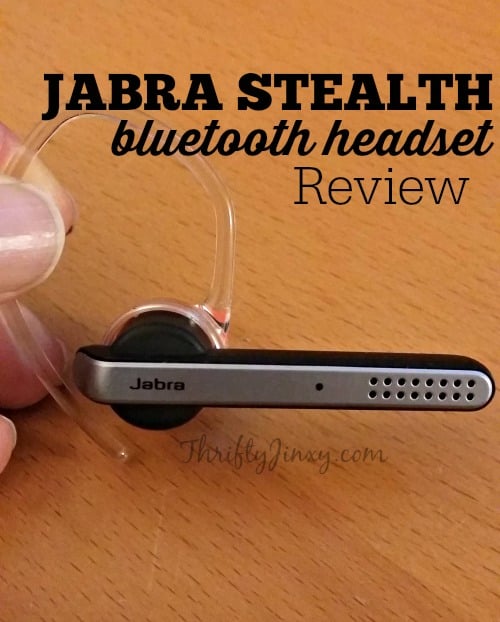 My husband is the king of bluetooth headsets. I'm sure he has tried at least a dozen of them so far. So, when I found out that Jabra had a brand new bluetooth headset available – the Jabra Stealth, I knew he would be up to the task of  trying it out.  First I'll share what Jabra has to say about their headset:
Jabra Stealth takes Bluetooth® headsets to the next level by being the first to incorporate the breakthrough microPOWER battery technology which allows for a significantly smaller design, longer talk time and a better comfort experience.

Jabra Stealth features the latest, most advanced sound enhancement technologies. Noise Blackout™ reduces background noise from your conversations and together with HD voice, you are ensured of crystal clear conversations at both ends of the call.

There's a completely new comfort experience with Jabra Stealth. The headset is significantly smaller and lighter and the weight of the headset is perfectly balanced in your ear. It's so discreet and comfortable that you'll hardly realise you're wearing it.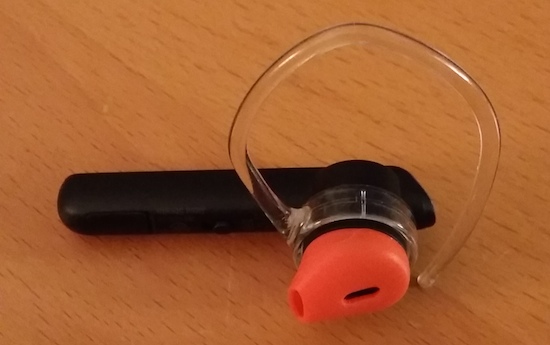 And now what REALLY matters, this is what my hubby Mario had to say about the Jabra Stealth Bluetooth Headset:
The Jabra Stealth Bluetooth Headset is very comfortable once I found the correct ear gel that fits my ear.  It takes patience at first but once you're done and you know which one fits, you'll never have to think about it again. Now I don't evenremember that I'm wearing it.
When calling Chrysa she  was a little distorted…nothing lowering the volume couldn't fix.  Chrysa said that she couldn't tell I was using a headset.  That's a first and a big win.  Also I found that when using this headset I used my inside voice, I can't explain why, but when switching back to my Samsung blue tooth headset, I was back to talking louder.   Perhaps this is due to the Jabra's HD sound experience coupled with its noise black out tech.
During my breaks at work I like to use the podcast player on my phone and go for a walk.  It sounds great!  One concern is range away from my phone once out of line of sight, the range seems to be about 15 feet – compared to my Samsung Bluetooth which about 30 feet range. In spite of the range issue all of the pluses outweigh the one negative about range.
So, there you have it! And in case you want the nitty gritty details about the Jabra Stealth:
Key benefits

Smartphone voice control button for remote activation of Siri/Google Now
Noise blackout dual microphone reduces background noise
HD Voice* for high definition  sound quality
NFC** for easy pairing
Stream music, podcasts or GPS directions
Up to 6 hours talk time

* Network dependent   **Device dependent