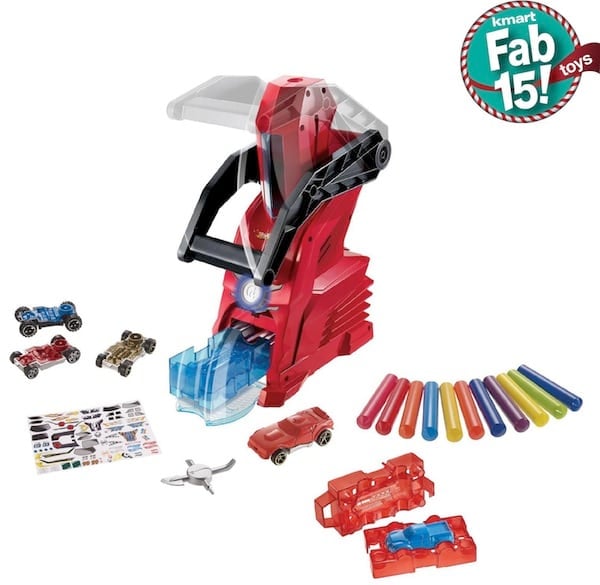 The Hot Wheels Car Maker Playset is a lot of fun! This toy lets you turn a stick of wax into a fully functioning Hot Wheels car in a matter of minutes. How cool is that?!?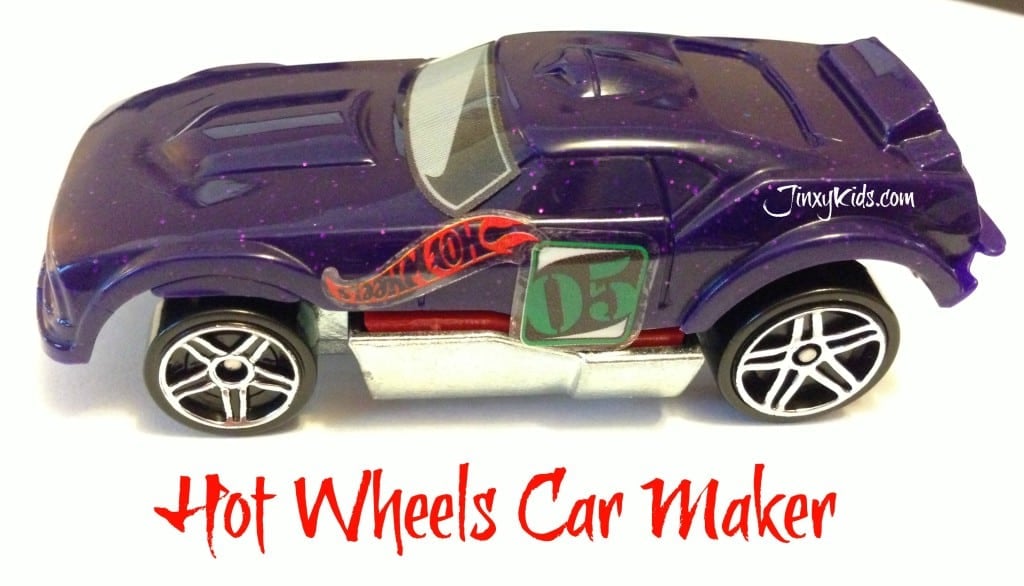 We received this toy last year and had a lot of fun with it. Keep on reading for highlights rom our Hot Wheels Car Maker review. But first, here are the details from the manufacturer:
Create Awesome Racecars From Scratch!
Boys can make their very own vehicles in a matter of minutes! The Hot Wheels Car Maker turns a stick of wax into a fully functioning Hot Wheels car that kids can customize with decals. This innovative machine features cool lights, music, and voice prompts that lead kids through the entire car-making process — from revving up to cooling down. It's creative play for every Hot Wheels fan!
Amp Up the Design Fun
Simply heat up the unit by plugging it in and turning it on. Then select a mold and wax color for your vehicle. The set comes with two molds and 10 Protoshotz™ wax sticks in a variety of sleek and sporty colors. Insert the mold into the machine and add your favorite wax color. In eight minutes, the Car Maker melts the wax into the mold and cools off — and you have a custom Hot Wheels vehicle body!
Detail Your Unique Vehicle
Attach the molded vehicle body to one of the three included chassis. Then get really detailed! Decorate the car with cool decals from the sticker pack. Go for speedy flames or stylish graphics — or both! Now your brand-new car is ready for racing action. For additional vehicle and design options, check out the Car Maker Mold Packs and Car Design Refill Packs (each sold separately).
Simple, Safe, and Fun!
The Car Maker is easy to use and "talks" young car-designers through each phase of the process. Kids receive voice prompts about when to insert the materials, press the button, and pull down the handle. They're instructed to remove the mold only after the wax has safely cooled. Plus, the machine's music and flashing lights during car building add to the interactive excitement!
What's in the Box?
Car Maker comes with two molds, 10 Protoshotz wax sticks, three chassis, and sticker sheets.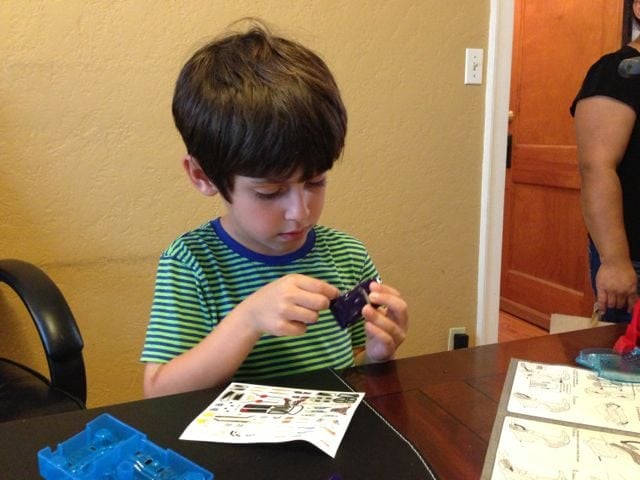 We had lots of fun testing out the Hot Wheels maker. It's designed for kids who are a bit older than Little R, so I had to do a lot of helping – which was actually fun for me!
I have to admit that the instructions were a bit confusing at first. I turned to Google for some other reviews and a video review that were particularly helpful to figure things out how to work it.
What we loved is that you can make REAL cars that you can actually play with. It feels like a little "factory" in your house because it plays cool music and tells you the steps of the process as you make your car.
I think that the little guy's favorite part was decorating the finished car with the included stickers. This toy definitely gets the FUN rating!
You can see our full Hot Wheels Car Maker review here on JinxyKids.com.