A little over a year ago my husband and I made the decision for me to resign from a position I had been at for over 3 years to stay at home.  While we don't have kids yet, I still felt it was super important for me to make sure the house was running smoothly, especially since I was home more than my husband.  I experimented with all types of methods… a household binder, spreadsheets, planners, meal planners, etc. but never really found a method I liked for managing EVERYTHING at once, until I found HomeZada.  If you're wanting to take better control of your household, take a look at my review below on the services offere by HomeZada.
I signed up for a trial membership with HomeZada, not knowing ANYTHING about the company other than what they promised me on the sign-up page: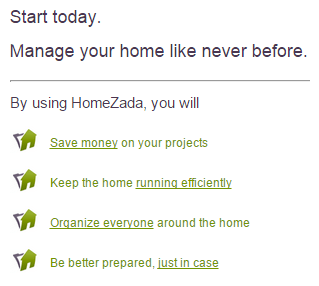 The first thing that it had me do was fill in information about my home. I entered in our address, and it populated information about my home based on recent property information from Zillow. Once my property was filled out, it showed everything that I would be able to do to manage my household: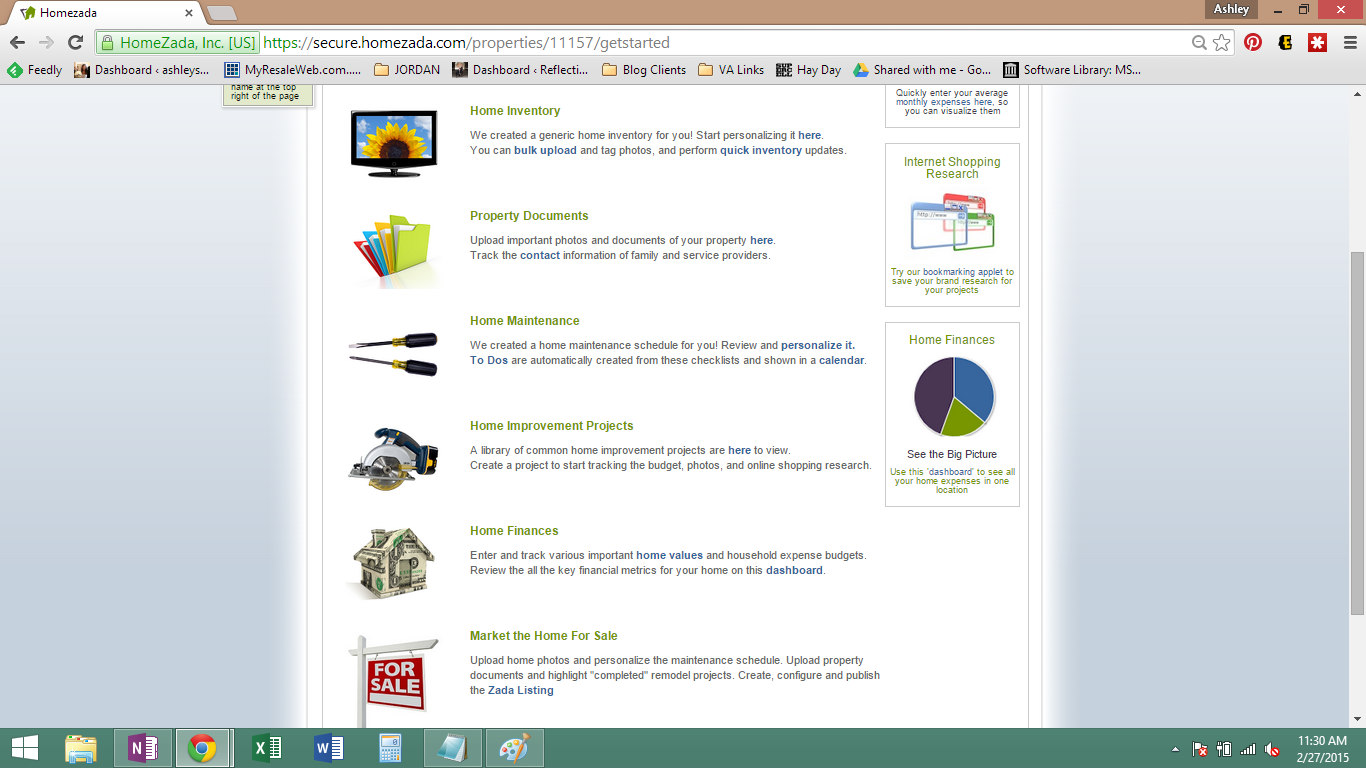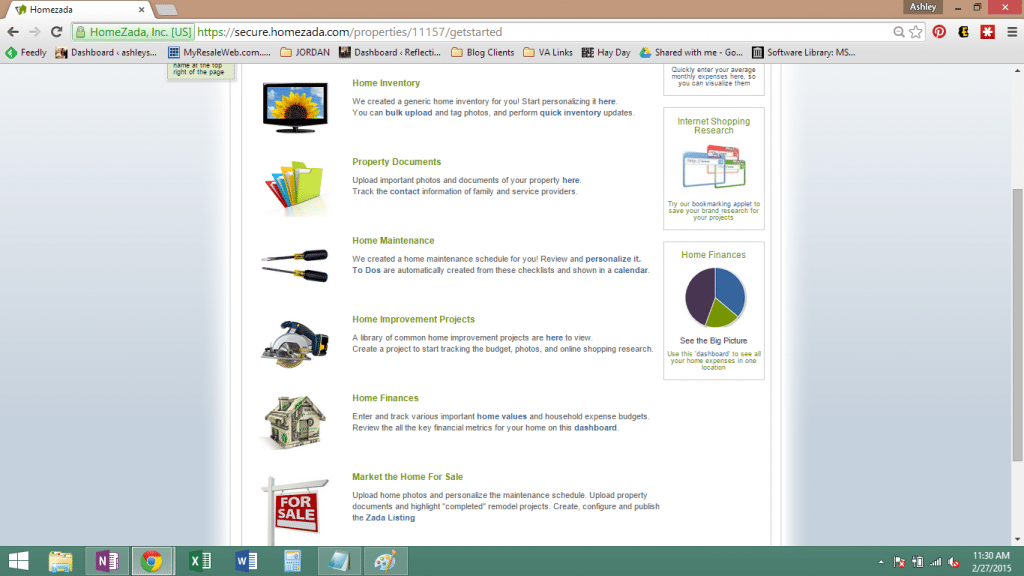 Property Documents – This section allows us to upload any documents about our property that we need to back up, along with contact information for different service providers.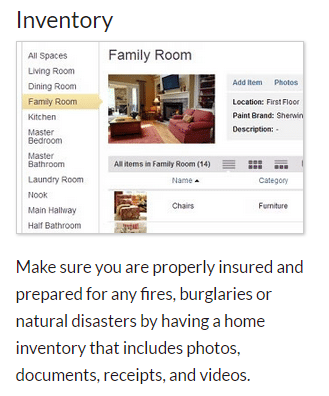 Home Inventory – Add pictures, attach value, etc. This would be super beneficial for providing the insurance company with updated lists of our possessions for our policy updates.  It is a lot easier to list out everything you own and attach a value to it using HomeZada, rather than throwing out a ballpark figure and finding out down the road that you didn't estimate high enough.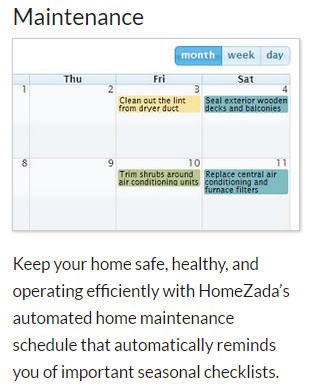 Home Maintenance – They actually created a home maintenance schedule for me! I have never even had one of these, so I'm really excited. The home maintenance schedule can be customized and printed out in either checklist form or calendar form.  It reminded me to do things that I NEVER would have even thought to do, but are ESSENTIAL for keeping our house running well.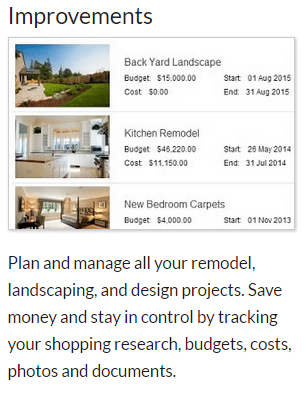 Home Improvement Projects – This section lets us keep track of home improvement projects such as online research about the project, photos that would be helpful, and even a budget plan.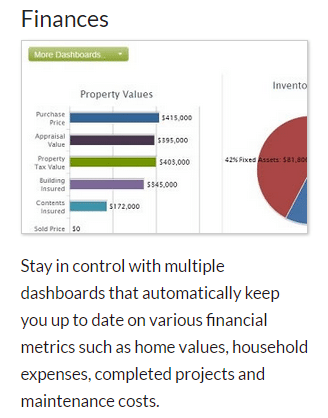 Home Finances – This option lets us track our household expenses all in one place, and also provides metrics for us to analyze our spending and make a better budget.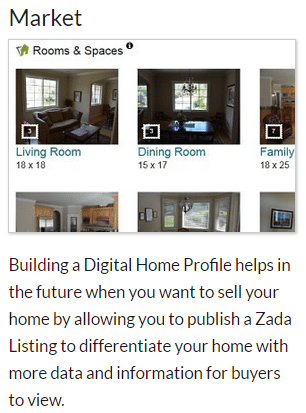 Market the Home for Sale – This isn't a function I'll be using right now, but if we ever want to sell our house, HomeZada can help us go through all of the steps to make sure our house is the best it can be for a potential buyer.
Other functions that HomeZada offers that I found really great are:
Visual Monthly Household Expenses, showing you a graph of exactly where your money is going each month
Internet Shopping Research, which uses a bookmark on your browser to keep all of your research in one place without having to keep a physical notebook
Mobile App, to help me stay connnected to my home management plans on the go
If you're looking for a way to make sure your home is taken care of – physically and financially – HomeZada is a perfect resource for you!
Special Offer: Thrifty Jinxy readers can save 25% off the price of a HomeZada Premium membership by using HomeZada discount code jinxy2015 at checkout. (Enter the code all lower case and no spaces.)
Reader Giveaway: Three (3) lucky Thrifty Jinxy readers will each win a 1-year subscription of HomeZada Premium ($59 value) which entitles users to all the features in HomeZada from home inventory, home maintenance and home improvement projects. For a chance to win, just complete the entry form below by 11:59pm ET on 3/24/15. Good luck!