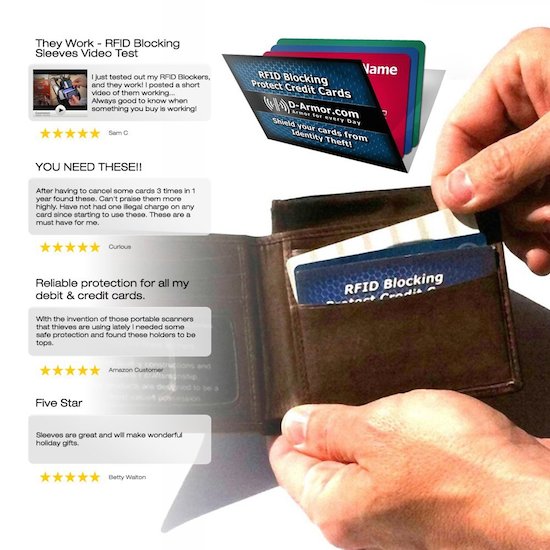 Sometimes gifts that help protect your loved ones can be the most thoughtful. RFID technology is supposed to make transactions easier by making purchasing and identifying yourself as easy as waving a card in front of a reader or scanner. The problem is that clever high tech thieves can get that information just as easily. Most people don't even know how exposed they are. Electronic pickpockets don't even have to physically come in contact with you to steal your information. A cheaply bought scanning device or even a Near Field Communication (NFC) enabled Smartphone with an App can compromise your information. A simple piece of technology like an RFID Blocker can protect you and your loved ones from Identity Theft and Credit Card Fraud, giving you peace of mind.
Sharing RFID Blockers with friends and family will help protect loved ones from Credit Card Fraud and Identity Theft. They can be used in several different ways. One to three RFID enabled cards can be placed into an individual Blocker. Two Blockers can be place in front and behind a stack of cards. Or you can use the unfolded Blockers and line your existing wallet making your entire wallet an RFID Blocking Wallet.
While you're out and about doing holiday shopping (and post-holiday shopping),you can protect your credit cards from scanners and thieves with RFID Blocking Folders and they also make a good gift idea for family, friends, employees, and co-workers because of all of the benefits they offer:
Protects Friends and Family with credit cards from theft
Light weight, small
Practical, useful and helpful
Fits inside wallet credit card slots
A Gift they will use Everyday and carry in their wallet or purse, protecting them everyday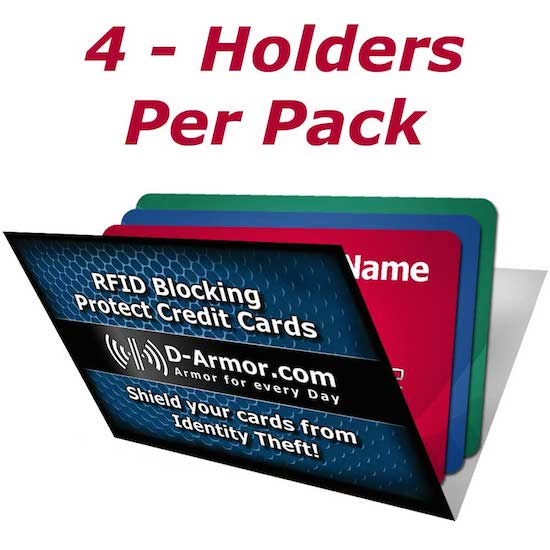 Reader Giveaway: Four (4) lucky Thrifty Jinxy readers will each win a set of RFID Blocking Folders. To enter, just complete the entry form below by 11:59pm ET on 12/27/14. Good luck!
RFID Blockers