If you have a little one in diapers, you will want to be sure to check out your local Sunday paper this weekend (April 12th) because you will find a high value coupon for $3 off two boxes of Luvs. You won't be able to find this coupon online, so be sure to check out that newspaper coupon section and maybe ask your friends and family to save theirs for you too.
Don't have a little one in diapers? Luvs can make a great gift for a shower present – you can only use so many adorable baby outfits that are quickly outgrown. A gift of diapers is super practical and appreciated! They are also a great donation item for local food pantries and food banks that also accept donations of personal care products. It's an easy and thoughtful way to help those in need.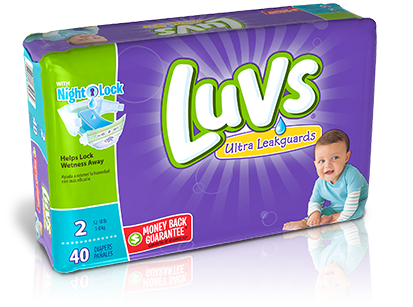 Don't forget – the coupon will be in the Sunday newspaper coupon insert THIS Sunday, April 12th. Happy coupon clipping!
For more information about Luvs, visit LuvsDiapers.com and follow them on Twitter and Facebook.
This post was made possible by Double Duty Divas and Luvs. I was compensated for my participation in this campaign, but all opinions are 100% mine.