We love SCRABBLE!  I think I have been playing it ever since I could first learn to spell and it remains one of my favorite games.  It's a game that my husband and I really enjoy playing together.  So much so, that we have a travel version we take with us on vacations and long weekends that probably gets played more than our Classic SCRABBLE game at home!  Not only is it fun to play, but it's a good way to keep our minds sharp.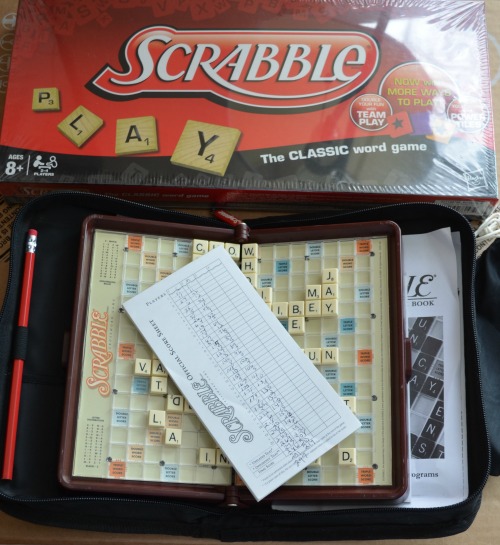 Speaking of sharp minds, for years, teachers have known that SCRABBLE is a fun and innovative way for kids to develop vocabulary, spelling, math and spatial relation skills. So, Hasbro teamed up with teachers and the National SCRABBLE Association to create the National School SCRABBLE Program.
In 1992, School SCRABBLE became available nationwide. Now, more than a half million kids have SCRABBLE in over 20,000 classrooms nationwide using this program. And 95% of the teachers surveyed say the program is a good value and a solid, innovative new teaching tool.
To encourage SCRABBLE playing in the classroom, Hasbro offers teachers a specially-priced School SCRABBLE Kit. Each kit costs $95 and includes 6 specially designed wooden SCRABBLE boards, 12 racks, 6 sets of tiles and 6 tile bags plus the most current word source, The Official SCRABBLE Players Dictionary, Fourth Edition.  You can order your kits HERE.

For young SCRABBLE enthusiasts, the 2014 School Scrabble Tournament registration is now open! Teams (between grades 4-8) from the USA and Canada are invited to participate in the multi-day event that includes 8 rounds of competition and fun on-site events. The tournament takes place at place at One Hasbro Place, Providence, RI and the entry fee is $100 per team. The 2014 Champions will take home $10,000, plus the Champions Trophy and a great selection of Hasbro games.
Reader Giveaway:  One lucky Thrifty Jinxy reader will win a classic SCRABBLE game.  With this updated version, you can play it the traditional way, or use the news POWER TILES to spice it up a little.  These tiles include Block & Save Tiles to save a square for a future play and Reload & Play tiles that let you take new letters without losing a turn.  To enter, just complete the entry form below by 11:59pm ET on 3/18/14.  Good luck!