The Playskool Busy Ball Popper Toy provides fun active play for toddlers and babies 9 months and older.
I couldn't let the gift guide go by without mentioning the two toys that have given my nephew hours and hours and hours of fun. Following is a review that I wrote on my review blog about a month ago.
My nephew, who is now 18 months old has had the Playskool Busy Ball-Tivity Center since he was about 8 months old and has enjoyed playing with it ever since then. They way he plays with it has certainly evolved, but he still has fun with it EVERY DAY. One of his other favorite toys is the Hasbro Playskool Busy Ball Popper and my review below talks about the great customer experience we had with that.
I don't often so whole-heartedly endorse something, but I really think these toys are great and they are an EXCELLENT value when they can provide such a long period of interest for a little one. Here is my previous review:
My 17-month-old nephew has the Hasbro Playskool Busy Ball Popper and I must say it is one of his favorite toys, second only perhaps to the Playskool Busy Ball-Tivity Center, which he still plays with daily even though he has had it almost a year. (See that picture below.)
Anyway, the real reason for my post is to mention the awesome customer service we received from Playskool. A few weeks ago the Hasbro Playskool Busy Ball Popper started to "act up". At times the balls would not pop out at all. That progressed to the fan not even moving, etc. After putting in new batteries, the problem was actually worse and the music wouldn't even play.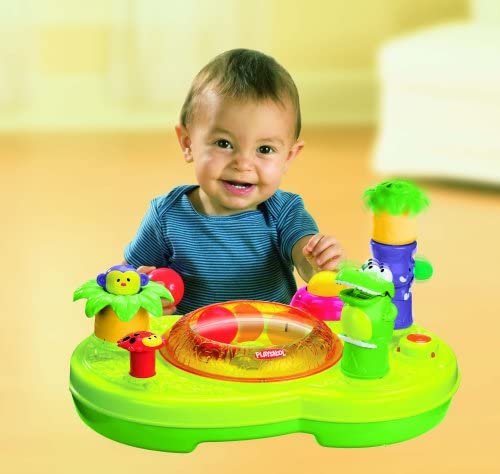 So, yesterday I called Playskool customer service. I didn't really have my hopes up for a resolution, but called anyway. My call was answered immediately with no hold time (that was a shocker!). The representative was very nice and professional and asked for me to fully explain what was wrong with the toy, when it was received (it was a Christmas gift), etc. After I gave him all the info he requested, he put me on hold for about a minute and then came back on the line to say he was going to ship out a new one!
The whole process was so easy and painless and it really makes me appreciate the fact that Playskool stands behind their products. We have a lot of years of toy buying ahead for my nephew and with this great experience Playskool will definitely be tops on the consideration list!