We tried out the Hasbro Connect 4 Launchers Game. See our review and the 5 ways to play.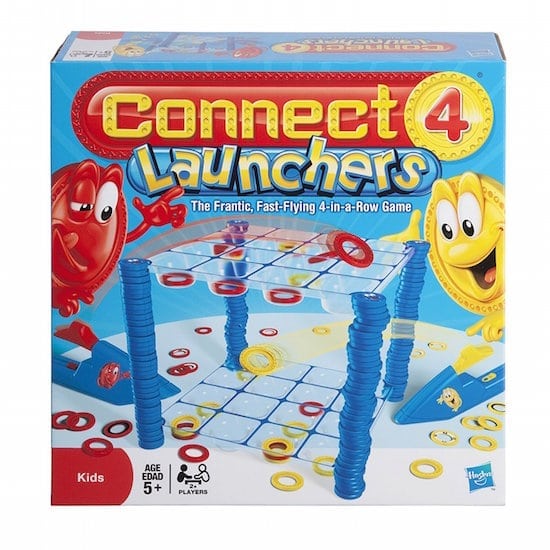 Many of us grew up playing Connect 4. It's a classic toy taking the very basic and age-old of tic-tac-toe one step further. But now Hasbro has advanced Connect 4 into the new millennium and introduced Connect 4 Launchers.
Your object is still to get four-in-a-row, but you don't just place your checkers….you LAUNCH them! Place your checkers on your launcher and blast off.
There are three different ways to play: In Basic Frantic Launch you just need to be the first to land four-in-a-row. In Championship Frantic Launch you try to flip to five points first. For a real challenge, there is Advanced Power Launch where you both have power checkers and you can try to knock your opponents off the board.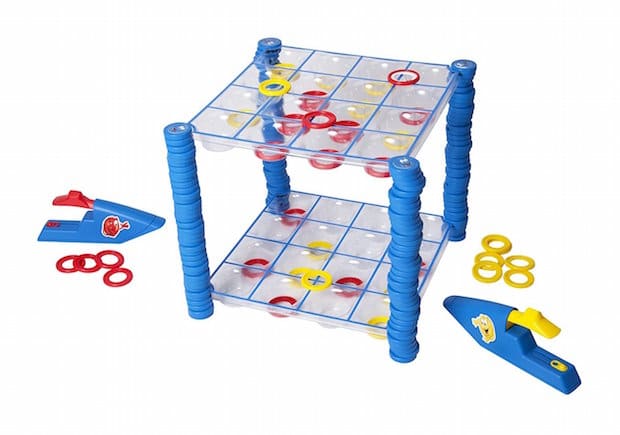 The game is designed for ages 5 and up, but even younger kids can still have fun launching the checkers, even if they don't grasp the full concept! With different levels of game play it's a game the whole family can enjoy and it can "grow" with your kids as they advance in skill.
How to Play Connect 4 Launchers:
Frantic Launch Play
The Basic Frantic Launch game challenges you to be the first to land four-in-a-row. The Championship Frantic Launch is your chance to flip to 5 points first and win. And the Advanced Power Launch is power checkers for maximum fun! Start with Basic Frantic Launch, where all you have to do is launch your checkers at either color tray. When you get 4 of your checkers in a row on the board, yell "CONNECT 4" and the game will stop. If you really made it, you win!
How It Works
The Championship Frantic Launch goes in rounds, and you start launching your checkers in your round. You get 2 points for each checker you land in the top tray, and 1 point for every one you land in the bottom one. The round ends and you win if you get 4 in a row or score 5 points! The Advanced Power Launch game works the same way as the Championship Frantic Launch. But you'll use your normal checkers and your Power Checkers to control spaces! Different powers will activate depending on what happens when you launch – you might get to go again, remove all checkers from a row that you land a checker in, or remove all checkers from every space that touches where it lands!
Getting Started
Choose your checker color and gather your checkers on one side of the board while your opponent does the same on the other! Now your next choice is which game you want to play: the Basic Frantic Launch? The Championship Frantic Launch? Or the Advanced Power Launch? Whichever you choose, you'd better practice your mad launching skills for a few minutes to figure out how to launch each checker high or low!
What's In The Box?
Includes 21 red checkers, 21 yellow checkers, 4 pillar pieces, 2 clear grid trays, 1 red checker launcher, 1 yellow checker launcher and instructions.